This is not a Jersey.......
It is a uniform. Everyday we put the colours over our head we are at work. Defending our turf, our homes, our families, and our pride. We strive to hoist our flag the highest, and repel those who try to climb to greater heights than us. We represent what we believe. The uniform does not transform you, it simply serves as the motivation to work hard everyday, to keep it wrapped over your back.
It is an honour. When worn, it is not only the weight of the material that you are carrying. You are carrying a legend. You are carrying each and every one of those who has ever worn the uniform. You are carrying the history behind the name, the history behind the black and gold, and the history of glory. You feel every ounce of blood, sweat, mud and water soaked into its fabric from the ongoing battles it has been worn in. You embrace the chance to carry into war and mark the weaves of fabric with your own stories of battle.

It is pain. Both the giving of and the taking of. For every time Franco Harris lowered his pad into a defender and steamrolled him into the ground, all for a measely extra yard or two, it left its mark on the opposing defender, who takes a fair amount of time to regather himself from the ground. It was created to do this. For everytime Hines Ward levels a blinded defender with a block so crushing that the man can see his feet above his head, and he winces as he hits the ground, it was made to do this. And for everytime Ryan Clark sacrifices himself to deliver a blow so devastating that all the air of the colisseum is drained for a split second...it was envisioned to do this.
It is Invincible. When the colours are gloated across our chests, we cannot lose. Nothing can win unless it is drenched in black and gold. Weather can only hope to slow us down. Rain, wind or snow, our cleats dig deeper and deeper. We relish the snow. We get down in the mud, and downright wild in the mud. The uniform can withstand it, and so can we. How can you defeat a man who has no fear? How can you beat a man with that look in his eye? You cant.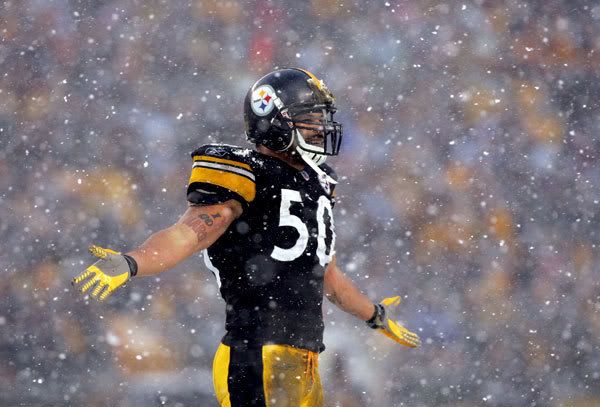 It is a bond that cannot be broken. The tighter we are, the further we may climb. Greatness alone is not enough, we dominate as a team. Every brother that shares the black and gold with me has my back, and I share the same obligation. Alone I can flatten a defender, but together we can bury them into the turf, just another casualty. Iron sharpens iron, the better you push me, the sharper I become. We are in this together. Brothers till the end, Black and Gold forever. And together, we can etch our names into the walls of greatness.
It is history. It has been bold in its achievements. It has been named Most Valuable Player. It has been named Rookie of the year. It has been the standard of defensive play, and it has been the envy of those who attempt to emulate us. Every game in the colours may be our last, and we want to make it worthy of rememberance in history. We want to give the future something to strive for.
This is not a Jersey. It is a Legacy.