So, I'm starting a new trend today. I'll post the topics, write about them, and you chat about it. I'll keep it to only three topics today, but I'll add more next week .You'll have new topics every week too, so I hope you're all excited. Plus, I'm going to college to be a writer, so I need practice.
Here are the topics for the day:
Thoughts about the Steeler's latest game
Weekly thoughts about teams in the NFL
Mini Hulk's Monday Night Football preview 
If you guys haven't already heard, the Pittsburgh Steelers won today against the Cleveland Browns 28-10. Ben Roethlisberger made his much anticipated season debut, and Steelers Nation faithful made him feel welcome. Here's the stats for Big Ben:
16-27/ 257 yards/ 1 interception. Not to shabby from Roethlisberger, although he would disagree with me.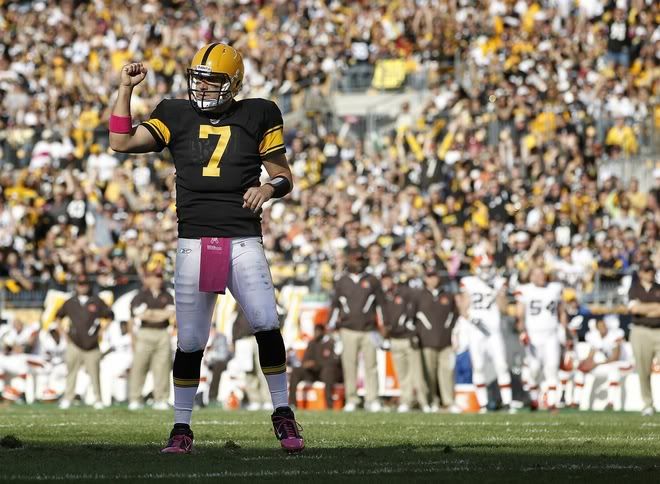 He looked a bit rusty at first, (which was expected) but he shook off the butterflies and showed the world that a 4 game suspension wouldn't be an issue. 
Aside from Ben being Ben, our running game was pretty good. Rashard Mendenhall and Issac Redman had a total of 33 carries for 115 yards. I don't think it would hurt to give Redman a couple more carries.
The receiving core seemed happy today. Mike Wallace had 3 catches for 90 yards and a TD. Hines Ward had 5 catches for 54 yards and a TD.  Heath Miller only had two catches for 50 yards, but he too, had a TD. 
Defense was pretty solid. They gave us a scare in the 4th quarter (as usual), but they got the job done. James Harrison had a couple "questionable hits"  Here's the one on Cribbs:
It should be noted that plays like this should be avoided at all costs, but you can't really blame Harrison for the hit. It's not like he wanted to intentionally hurt Cribbs, and you can't stop something like this. It's just another unfortunate injury to a good player (one of Cleveland's only good players) He'll probably get a beautiful fine for the hits, so be on the lookout.
Can I say this: The San Diego Chargers suck right now. Seriously, what is going on over there? They were supposed to be the team representing the AFC in the Superbowl this year (accoring to NFL experts). Now look at them.  Lost to the Chiefs, lost to the Raiders, lost to the Seahawks, now this. The St. Louis Rams? Don't get me wrong, the Rams deserve credit for the win. They were in the shit for the past couple of years, and they're playing good football. Not great, but good enough. (no wonder why my beloved Denver Nuggets are falling apart. Damn you Stan Kroenke!)
LaDainian Tomlinson looks flat out great. 16 carries for 55 yards, including two TDs, one being a game winning run. I can't get over the fact that the Chargers decided to let him go. Could you imagine a back field or Ryan Mathews and LaDainain Tomlinson? That would have been epic!
Cowboys won't make the Playoffs this year. No way in hell. Being 1-4 in a tough Division, where the New York Giants, Philadelphia Eagles, and the Washington Redskins are housed. It's only a matter of time before Wade Phillips get fired. All that hype about going to the Superbowl at home, only to play like crap. 
Even though the San Fransisco Giants lost last night, the 49ers didn't follow. Yes, they won their first game of the year. At home against the Oakland Raiders. Everytime Alex Smith touched the ball, the fans booed, and they had every right to. Overthrown passes, getting sacked. Etc... Not sure how much longer the guy will survive there. As much as I like Alex Smith, he's proven to me one thing: he's inconsistent...VERY inconsistent. 
I feel bad for Jay Cutler. After missing game due to an concussion, he comes back and gets sacked six more times. To make things worse, it was at home against the Seattle Seahawks.  When the Bears played the NY Giants a couple of weeks ago, Cutler was sacked nine freaking times...in the first half. Last one resulted in a concussion. Can't believe the Bear's Offensive Line can't protect the guy. Doesn't help that he's holding the ball too long either.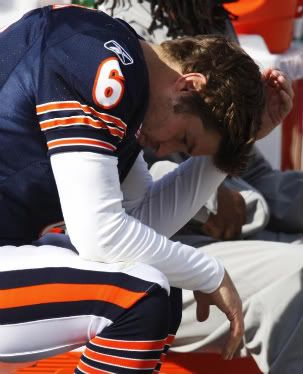 Yeah Cutler, I don't get it either.
So, who's the best team in the NFC, exactly? Atlanta lost. Packers lost. Bears lost. Somebody needs to tell the NFC to stop sucking because it's getting ridiculous. Cold it be the Rams? NY Giants? New Orleans Saints? They have decent records...
As for tonight's game, Tennessee Titans and Jacksonville Jaguars..anybody going to watch it? Does it really sound that exciting? I'm not a big fan of either team, so I'm going to watch the Rangers @ Yankees instead. (yeah, they're playing tomorrow night too) Keep an eye one Chris Johnson and Maurice Jones-Drew. Those two are going to run the ball like no other. Look for Cortland Finnegan's punches too. Dick likes throwing those. I'm sticking with my picking of Jacksonville to come out with the W
Well guys, that's about it. Hope you enjoyed it. GO STEELERS!