By the way, if you have any suggestions, or if you'd like me to add anything, feel free to say something. I promise I won't rip your arms off.  Halloween is over too, so make sure you hide your candy from your parents, and brush your teeth two to three times a day. Your mother will be relieved. 
Here's the topics for today:
Thoughts about the Steelers @ Saints
Who is the best in the NFC
Thoughts around the NFL
Texans @ Colts preview 
 Even though the World Series was on, I chose to watch the Pittsburgh Steelers because I was looking forward to this game before the season even started. Now, I wish I didn't. 
I really don't have much to say here, but I'll try anyway.
Right from the very beginning, the Pittsburgh Steelers weren't playing like the Steelers we know. Bunch of questionable play calling, bunch of missed calls. Etc...  Roethlisberger looked uncomfortable in the pocket all night long, he wouldn't get rid of the ball when he needed to, and he just, couldn't get anything going.
In the 1st Quarter, Rashard Mendenhall looked like he was in for a touchdown, but the Saints challenged the play and it was overturned. OK, so we gave the ball back to Mendenhall and the result: no touchdown. In fact, we settled in for a field goal.
Right before halftime, the Saints were driving down the field, tried to make a trick play, but Mike Tomlin called a timeout. Smart move. Held them to a field goal.
Going into halftime, the game was tied at 3-3. 2nd half was different.
I'm just going to jump right into the 4th Quarter here.
Saint's first possession: Drew Brees throws a short pass to Colston for a touchdown.
Steelers respond with a 38 yard Rashard Mendenhall touchdown run.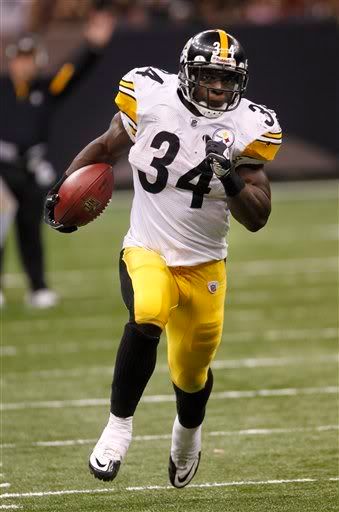 Saint's 2nd possession: Brees is sacked by Bryant McFadden, fumbled the ball, and LaMarr Woodley recovered.
Steeler's 2nd drive: Roethlisberger throws a short pass to Tight End Heath Miller, who was pretty quiet last night. Miller was hit, he fumbled the ball, and Darren Sharper recovered the ball. The result: touchdown Saints. 
Steeler's last drive ended with a Roethlisberger interception. Game over. 
Overall, I'm really disappointed in both teams. The game was sloppy, the refs missed several calls, but the fans were rockin'. This game also showed us our biggest weakness in our Defense, the passing game. We don't play till next Monday, so, here's to looking forward to a Bengals bash!


I've been doing some thinking lately. Who, exactly, is the best in the NFC? Well, let's take a look at some stats on the Division leading teams in the NFC?

NFC West Division Leader: Seattle Seahawks Record: 4-3
Offense:
Points per game: 20.0 (20th in NFL)
Yards per game: 284.7 (27 in NFL)
Passing Yards: 198.5 (20th in NFL)
Rushing Yards: 95.5 (24th in NFL)
Defense:
Points: 17.8 (5th in NFL)
Yards: 338.8 (19th in NFL)
Passing Yards: 261.3 (29th in NFL)
Rushing Yards: 77.5 (2nd in NFL)

NFC South Division Leader: Atlanta Falcons Record: 5-2
Offense:
Points per game: 24.1(12th in NFL)
Yards per game: 370.9 (9th in NFL)
Passing Yards: 233.4 (14th in NFL)
Rushing Yards: 137.4 (6th in NFL)
Defense:
Points: 19.0 (9th in NFL)
Yards: 356.1(24th in NFL)
Passing Yards: 260.3 (28th in NFL)
Rushing Yards: 95.9 (8th in NFL)

NFC North Division Leader: Chicago Bears Record: 4-3
Offense:
Points per game: 18.0 (26th in NFL)
Yards per game:  290.4 (30th in NFL)
Passing Yards: 201.9 (19th in NFL)
Rushing Yards: 88.6 (29th in NFL)
Defense:
Points: 16.3 (2nd in NFL)
Yards: 305.3 (5th in NFL)
Passing Yards: 216.0 (16 in NFL)
Rushing Yards: 89.3 (5th in NFL)

NFC East Division Leader: New York Giants Record: 5-2
Offense:
Points per game: 25.0 ( 9th in NFL)
Yards per game:388.7 ( 3rdin NFL)
Passing Yards: 243.3( 9th in NFL)
Rushing Yards:145.4 (4th  in NFL)
Defense:
Points: 21.9 (19th in NFL)
Yards: 263.3  (2th  in NFL)
Passing Yards: 177.9 (2nd  in NFL)
Rushing Yards: 85.4 (3rd in NFL)



I remember watching the coach for the Tampa Bay Buccaneers saying that stats were stupid and that they're the best. I have a hard time believing the Buccaneers are the team to beat. You were blown out by Pittsburgh and blown out by New Orleans. You barely beat the Browns, Bengals and Rams, and you pounded a crappy Carolina team.
Your next five games: @ Arizona, @ Atlanta, Carolina, @ 49ers and @ Baltimore. You'll have to win the 4 out of 5 to convince me.
Anyway, the team in the NFC right now is the New York Giants. They destroy QBs, their WRs are terrific, and Eli Manning may throw stupid INT's, but he's perfectly capable of throwing for over 300 yards.


So, I was chilling in my room, switching the music channels, when this very song popped up. It's called Maniac, and it's addicting as hell. I had to get on Frostwire to download it because it's so epic. I've been listening to it ever since. Freaking amazing! I'll post the video so I can spread the word.

So, Dallas lost, again. To make things worse, it was a blowout to Jacksonville. JACKSONVILLE?! What? That's crazy! David Garrard threw four TDs while poor Jon Kitna threw 4 interceptions. Sad. I think Dallas quit. It's not going to get any easier from here, as they travel to Green Bay to take down the Jets stomping Packers. Hopefully Wade Phillips gets the Sunday newspaper, because he's going to need a job soon.
Speaking of the Packers, how 'bout that? The mighty New York Jets were shut out at home against a team who has been losing players more then I've been losing money. My word. What happened to the "Sanchise"? 2 interceptions? That's unacceptable Marky Mark. Of course, Arron Rodgers wasn't exactly spectacular either, but he was obviously the better QB.
Hey look, San Diego won a game yesterday. Yes, it's true. I looked it up. The Chargers held the "best running back in the NFL" Chris Johnson to only 59 yards. Not to shabby. Maybe Phillip Rivers can finally grow a pair and shut up.
The return of Mathew Stafford was a success. For a guy who sat out since the first game of the year, man, he was good. 4 touchdowns and only 1 interception. The thing that puzzles me is the benching of Donovan McNabb. Seriously. What the hell? And to make things worse, you benched McNabb for Rex Grossman?! What were the Redskins thinking? Grossman fumbled the ball and Ndamukong Suh ran it back for a touchdown. Man, I love that guy. 




The Houston Texans are in Indianapolis to take on Peyton Manning and fragile Colts. My goodness. How much worse could it possibly get? No Dallas Clark. No Austin Collie. Still no Bob Sanders. Etc... The last time these two played one another, we all saw Arian Foster run for 231 yards on 33 carries. REALLY? On the Colts? How is that possible? 
Meanwhile, the Colts have no running game and I mean NONE! Can they really rely on Peyton Manning's arm so much? Not really. Sure, their record says otherwise, but still. 
Whatever, don't expect Arian Foster to run all over the Colts again. My guess is that he'll get half of the yards he ranked up in week 1. Dwight Freeny will sack Schaub at least once. Peyton throws for over 300 yards. Oh, by the way, they're playing in Indianapolis.
Colts win 31-24