I've been in a pretty good mood all week long. San Francisco Giants won the World Series, I'm starting school in a couple of weeks. Life is good right now. However, I'm making this one short because I'm lazy.
Whatever, here are the topics for this week:
Steelers @ Bengals preview
The return of Thursday Night Football
Around the NFL
Ah, the time for revenge has finally come. The Pittsburgh Steelers final road game will be against the Cincinnati Bengals on Monday Night. This game isn't necessary a must win, but it'd be nice to beat them. I've been waiting for the rematch after watching Pittsburgh lose both games last year. 
Anyway, this rivalry dates back to the 1970's. Pittsburgh holds the lead with 53-28 series victories.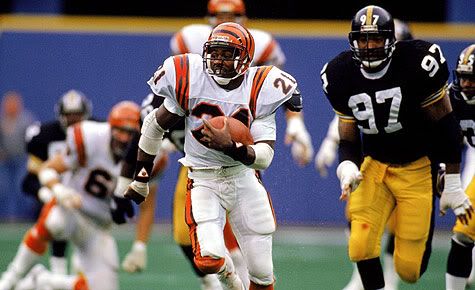 I still have memories of our first meeting last year when the Steelers gave Carson Palmer enough time and space to throw the game-winning TD to Andre Caldwell. Palmer also completed a two point conversion to put the Bengals up 23-20.  Ben Roethlisberger threw the Hail Mary, but is was incomplete, and the game ended. The victory went to Cincinnati. This was also the first time Roethlisberger lost to a team in Ohio (home state and all)
The 2nd meeting wasn't any better. Ben was under distress throughout the entire game, was sacked several times, and we lost....again. Not only was our Offense crap, but our Special Teams was flat out terrible.  The only TD in the game was a 94 yard kickoff return by Bernard Scott. Other then that, all of the scoring came from Jeff Reed of Pittsburgh and Shyane Graham of Cincinnati. 
But that was last year. This year is different. The Bengals are struggling and I'm sure Pittsburgh's Defense has revenge on their minds. Ben (hopefully) won't look like crap like he did on Sunday. Heath Miller won't fumble the ball, Mendenhall runs all over the Bengal's defense, and  Mike Wallace will have a huge game.
It won't be easy, considering the weak link in our Defense is the passing game, and that has to change. We clean that up a bit, and we're good to go.
Anyway, Steelers win 24-17
La la la, the wonderful world of the NFL.
So, the Minnesota Vikings are in some serious trouble here. No, it's not just their record. The locker room is a mess. Percy Harvin and Brad Childress almost got into a fight. The players don't respect their coach. The owner of the Vikings is "mum" on the status of Childress, whatever that means.
During the Cardinals @ Vikings game, fans were showing their displeasure for their coach, chanting "Fire Childress!" That's not all. Players on the Vikings roster haven't been exactly happy either. Here's a good example:
"The players have had enough of his BS. He needs to go."
Oh wow. That's pretty bad. Brad Childress obviously hasn't been the greatest guy in the locker room, but the frustration is finally coming out. Can you blame the team? Your coach questions your QB, who's been playing since 1992. You trade for Randy Moss by giving away a third round draft pick, only to get rid of him after four weeks because it "wasn't working out." Really? That's like giving up a PSP for a Snickers bar. 
On a happier note, Brett Favre and the Vikings pulled off another memorial victory over the Arizona Cardinals. With the help of Running Back Adrian Peterson, Brett Favre drove the Vikings down to field for an Adrian Peterson touchdown. Next Cardinals possession ended up in a 3 and out. Arizona punts the ball to Camarillo. However, there was a penalty on Minnesota's Chris Cook for an illegal block in the back.
With only 2:24 minutes to play in the 4th and with no timeouts remaining, Brett Favre started the drive by throwing a short pass to Bernard Berrian for 15 yards. Then, another short pass to Adrian Peterson who turns it into a 33 yard run. With .34 seconds left, Brett threw a  pass to Visanthe Shiancoe for the TD. Extra point tied the game. 
In overtime, Viking's Defense stepped it up, stopped the Cardinals, and gave the old Gunslinger another chance to win. In the end, Ryan Longwell kicked the game winning FG. Final score:  27-24
One more thing: I heard Sidney Rice is coming back soon. 
So, the Cleveland Browns shocked the world again yesterday. This time, the New England Patriots. Yes, it's true. I looked it up. The all mighty Tom "Beiber 2.0" Brady couldn't escape the wrath of Peyton Hillis and the Browns. Hillis had 29 carries for 184 yards...wait, who? I've never heard of this guy. I also think the Browns finally found their starting QB, Colt McCoy. 14/19 for 174 yards, no TDs, no INTs. Yeah, those numbers aren't eye popping, but it's good to hear the kid is getting the job done. I bet Texas misses him badly. 
So it's official, (if it wasn't already) Dallas has given up. When your Defense gives up 28 points in the 1st half of the game, it usually means lights out. To make things worse, After Green Bay went up 21-0, the Dallas Cowboys fumbles the ball, and the Packers ran it in for a TD. Thing is, McCann's knee was down before the ball came out, but Wade Phillips didn't throw the challenge flag. What the hell? To make things worse, they had no timeouts, so they couldn't challenge the play even if they wanted to. Talk about insult to injury. Seriously, this is pathetic.
The 2nd half wasn't any better. Dallas couldn't get anything going, Green Bay had complete control, and I lost my interest in the game.
Things won't be getting any easier as they get to travel to New  Jersey to face the New York Giants. Oh my!
During this game, I couldn't help but think Clay Matthews has to be a top pick for Defensive Player of the Year. Guy is a BEAST!! Not only was he getting to the QB, but he also returned a fumble in for a TD.

Here's the schedule for this year:
                                           Isaac Redman, the most interesting man in the world!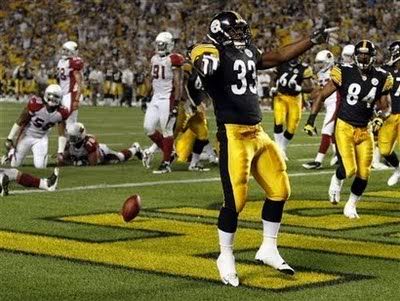 Just felt like my post needed more Redzone Redman. 
Hope my laziness didn't disappoint anybody.
Go Steelers!