How's everybody doing? I know, it's been forever since I posted something.
 Hope everybody had a great Christmas.
 Blah blah blah
Well, let's get started, shall we? 
So, if you didn't watch the Thursday game, you didn't miss much. The Steelers are one game away from not only winning the AFC North Division Title, but getting a much needed 1st round bye. We have aching key players ( Polamalu, A. Smith, Roethlisberger etc..) who could sure use a break. All they need to do is beat a Browns team who has nothing to play for, except for pride. Expect a hard fought battle next week.
Anywho, from the very beginning, the loyal fans of Pittsburgh were rocking the stadium called Heinz Field. The Defense came out with chips on their shoulders, knowing that this was a must win game. Ben Roethlisberger and the Offense knew that the Defense was going to do their part, so it was only right if he did the same.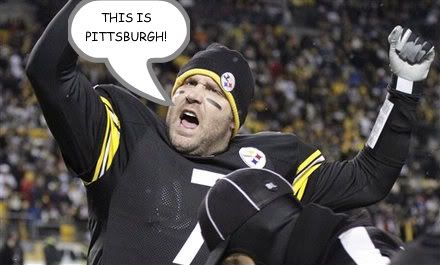 (I guess Carolina forgot where they were playing)

Carolina had the ball to start the game, and they thought feeding the ball to Stewart would help them out a lot. Well, it was working in their favor. They managed to get to the Steelers 35 yard line until two false starts penalties, then 2 short passes.  Carolina punts.
 After that, it was all Pittsburgh. Rashard Mendenhall had a nice start, a 35 yard run. Then, there was Heath. Two catches for 28 yards. Sadly, the drive ended on a Field Goal because Roethlisberger's TD pass to Emmanual Sanders was challenged, and reversed. Thank goodness we have Suisham. I was worried about him at first, but he's been really good. Thanks for making me believe in you. :]
I guess there's not much to go from here. We won the game, convincingly. Big Ben was Big Ben. Got sacked a couple times. Made big plays. He even ran a QB Sneak for a touchdown. The Defense was stingy. Special Teams scared me a little bit. Yeah.
We didn't get a shutout, but hey, we won. Steelers also went to 6-7 without Troy Polamalu. Get well soon my friend.
So, it looks like the Chargers are officially done this year. That crappy start  lasted virtually all season long. They were swept by the upcoming Oakland Raiders, they lost to the Divison Champs Chiefs. Yeah, they pounded them a couple of weeks ago, but Matt Cassel wasn't playing.  Will Turner keep his job as their Coach? Seriously? How can this team have the #1 Offense AND #1 Defense in the NFL and suck so bad? Simple: Special Teams.  Remember the game in Oakland? Lol! (the one time I was ACTUALLY rooting for the Raiders, they od me a favor and destroy the Chargers) Today wasn't any better either. The world (or whoever was able to watch the game) witnessed the ultimate destruction of the Chargers, courtesy of the Cincinnati Bengals. Worst thing was that the T.O Show didn't even play. Neither of them. Haha!
Another California team who's done are the San Francisco 49ers. Seriously, I can't believe they still had a chance to go to the Playoffs in the first place. Mike Singletary decided to start Troy Smith, instead of Alex Smith. Personally, that was a big mistake. Although Alex is inconsistent, he still knows the playbook better, and he's 3-1 all time against the Rams. Throughout the entire game, both teams struggled to make any kind of big play. The Rams took an early 9-0 lead (TD and a Safety) to get things going, only to see Ted Ginn Jr. . Then, St. Louis answers with a Field Goal. 49ers come back with a Crabtree touchdown. 49ers lead 14-12. You can hear the fans jeer in disgust. 2nd half of the game, Troy Smith and the 49ers turn it over off of an Smith INT. Rams turn it into another Fg. 3rd quarter is a massive bust as good ol' Jeff Reed misses a 34 yard Fg. 4th quarter, Troy Smith fumbled the ball, and Westbrook recovered. While Singletary and T. Smith got into an arguement on the bench, Sam Bradford and the Rams Answer the fans with another touchdown pass. This time, Robinson was the receiver. Kick is good.
Finally, Alex Smith is in the game. Basically, he couldn't get the 49ers out the hole, as he was hit, he fumbled the ball and the Rams get it. That's basically it.
Rams win, 25-17. Good luck finding a job, Singletary.
How 'bout them Chiefs? After winning only four games, watching the Chargers win the Division, they finally get a chance to make some serious noise. The Chiefs took care of buisness against the Tennessee Titans 34-14. Sad thing was that it was 31-7 at half. But that's alright. The Chiefs are the AFC West Champions!! They will either play the Jets, Ravens, or Steelers to start the Playoffs.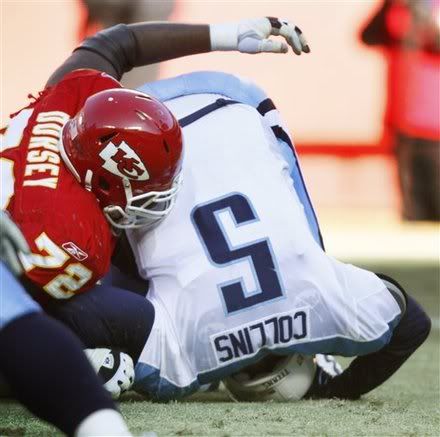 (Do I see a potential fine here?)
Well, so much for the QB destroying New York Giants.  After the Defense self-destructed against the Eagles last week, the entire team blew up today. While Packer's QB Arron Rodgers threw for 4 touchdowns, little Eli Manning threw 4 interceptions. Since I didn't watch the game, I'm not sure if all of those INTs were Eli's fault, but this is unacceptable. This team should be an elite team, especially in the struggleing NFC. Instead, they're choking. Their coach could be fired. The city of New York is irate. What can you do? To make things worse, they handed the Division to their rival Eagles, so even if Philadelphia drops the last two games, they still have the Division. Too bad, nobody is feeling bad for you guys.
I really wish the Jets @ Bears game was on my T.V. today. I missed a lot of great plays. Mark Sanchez and Jay Cutler put on a show for the fans in Chicago. After Chicago scored, the Jets took over, and went ahead. I'm assuming the fans were booing their Defense. Everybody thought the Bears were going to get another beating at home. Jay Cutler wasn't going to let that happen. Looking like a potential MVP candidate, Cutler ran in for a 2 yard touchdown. That was the turning point for Chicago. Throughout the rest of the game, Sanchez and Cutler went back at it. Touchdown after touchdown. Field Goal to Field Goal. Defense...optional. I'm interested to see how Cutler looks in the Playoffs. Can't wait!
                                         (Don't worry New York, the Jets are in the Playoffs, again)
I also thought this article on the Bears was interesting. Check it out here.
Oh, by the way. Anybody see Peyton Manning's bootleg run? Didn't think he could actually do this. Lol!
Well, I hope ya'll enjoy it, cause it took me forever to type.  :p