Let's check out the Pittsburgh Steeler's 2nd year WR Mike Wallace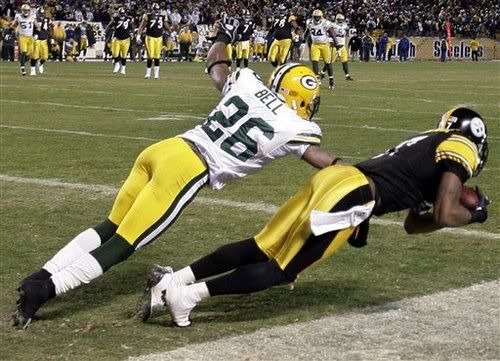 Here are the key stats for Mr. Wallce:
 

Receiving
Year
Team
G
GS
Rec
Yds
Avg
Lg
TD
20+
40+
1st
2009
Pittsburgh Steelers
16
4
39
756
19.4
60
6
14
6
28




 

 

Rushing
Year
Team
G
GS
Att
Yds
Avg
Lg
TD
20+
1st
2009
Pittsburgh Steelers
16
4
5
48
9.6
21
0
1
2

 

 
Conclusion:
People have been wondering if Wallace can fill the hole Santonio Holmes left, but fear not. Mike Wallace is more then capable of filling that role. He's not going to catch the same passes with Dennis Dixon for the first month, but he'll be fine.
I expect Wallace to make a HUGE impact this season. There's no more Santonio Holmes making all of the big time catches, so expect Wallace's stats to increase dramatically. He's also able to stretch the field, and he's not afraid to make the big play, as seen here:
So there you have it. I proudly present, Mike Wallace.