Pittsburgh Steelers @ Tennessee Titans
Obviously Dennis Dixon will be feeling the pressure from the Titan's defensive line, but it doesn't hurt to have players like Hines Ward and Heath Miller helping you out. Don't forget about Mike Wallace. It's time for Dixon to come out of his shell and start throwing the ball a little further. And don't worry, if the passing game doesn't work, Mendenhall and Redman will pick the slack, like they did last week.
With a healthy Troy Polamalu, Arron Smith and the Steeler's defense playing MUCH better, Chris Johnson may have a problem getting 100 yards and could cause Vince Young a problem or two.
                                                             Remember children, the hair matters!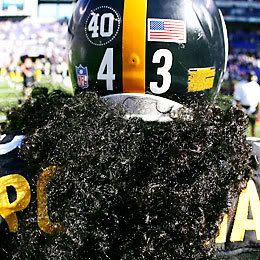 Houston Texans @ Washington Redskins
The only reason why I consider this a big game is because of two things:
Are the Texans for real? Remember, the Texans ran all over Peyton Manning and the ACF Championship Indianapolis Colts.
Can the Redskins play better? No TDs Donovan?
Seriously, the Redskins didn't show me much on Sunday night. Even though they managed to beat Dallas at home, they only survived because Dallas decided to shoot their selves in the foot, basically giving the game to Washington.
Last week, rookie RB Arian Foster carved up 231 yards, while scoring 3 touchdowns in the process. Even though Washington has Donovan McNabb running the show, the Redskin's offense failed to score a TD.  
Did I forget to mention troubled DT Albert Haynesworth now has an ankle injury? You can read up on it here.
New England Patriots @ New York Jets
Well, if you haven't heard already, the Patriots destroyed the Cincinnati Bengals, while the world watched Ray Lewis and the Baltimore Ravens shut down the "Superbowl contending" Jets.
How are the Jets going to rebound from a offensively terrible home opener loss to the Ravens? Will Tom Brady be throwing 3 TDs?
Since this is a divisional rival game, expect more brutal hits, less scoring and more trash talking (hello Randy Moss and Darrell Revis!)
Chicago Bears @ Dallas Cowboys
Why would this be a game to watch? I mean, really? Chicago?
Well, they may not be divisional rivals, but their games are usually worth watching. You never know what to expect.
Chicago is coming off of a win that should have gone to Detroit, so I'm curious with how they handle an actual opponent (no disrespect to the Lions) Jay Cutler loves to throw the ball, and loves throwing INTs, which makes a Bears fan cringe every time it happens. Also, DE Julius Peppers has had 7 sacks in 6 games against Dallas, so he can be a factor coming into Sunday
Dallas on the other hand, well, their offense sucks. Just look at all of the talent that's on that roster. Jason Witten, Marion Barber, Dez Bryant, Felix Jones, Miles Austin, Tashard Choice, and Tony Romo. Dallas should be scoring at least 21 points in EVERY GAME! Washington's Defense really isn't that great either. What's the deal? Because of Dallas's lack of scoring, I'm guessing this game will be won by defense. You 're the team coming out of the NFC this year? prove it to us.
New York Giants @ Indianapolis
Yay! The Manning Bowl! Who doesn't want to see Peyton and Eli Manning go at it? It doesn't matter if you hate them or not, you're going to watch this game. It's exciting, interesting, and it's Sunday Night Football. Also, we all know Eli isn't the QB Peyton is, so Eli may play the "revenge" card.
If you're interested in checking out the last time they played one another, here's the stats and junk.
It may also be the last time you ever see them play against one another considering that Peyton is 34 years old. He'd be 38 if/when they play again.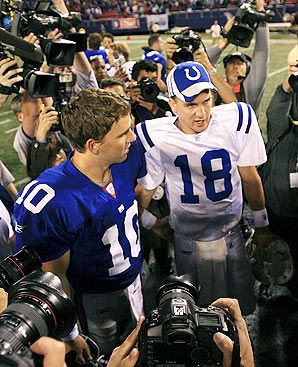 Well, that's that. Tune in next week for a new write-up.  :]