fever here....... I would like to introduce my new, good friend, lottwasgangsta. A fellow BTSCer, who is a fan of the San Francisco 49ers. He is helping me cohost a poast dedicated to reasonable, intelligent and fun, discussion of the upcoming MNF game.
Steelers at 49ers.......should be a great game.......Can't Wait!
Warning! Pictures of Cheerleaders ahead. No sneakpeekin. PixburghArn, this means you.
steeler fever---
Thanks for making this poast with me lottswasgangsta! He has humbly agreed to provide pics, of the 1 thing besides
Patrick Willis
, that I covet from his team. Stay tuned.
lottwasgangsta--- Absolutely. Thanks for having me/us. Though we're all going to be screaming at the other's team for 3 hours on Monday night, it's cool that we can have a reasonable, thoughtful back and forth discussion. How would you guys feel about trading Maurkice Pouncey for Chilo Rachal?
steeler fever---Chilo whochal? But the answer is no. Pouncey is a keeper.
A little discussion of pressing NFL news before we get to the game.
What is your opinion, about James Harrison 1 game suspension?
lottwasgangsta--- Joe Staley is thrilled! Seriously though, it's a mixed bag. I think Harrison's a hell of a player, I definitely agree that he's been targeted by the league, but on that tackle, I think McCoy WAS a runner, so the QB protection rules don't quite apply. On the other hand, there's no reason he couldn't have led with his shoulders, wrapped up, and made a cleaner tackle. Is he being targeted by the league? Absolutely. Is he doing everything he can to help his position? No.
steeler fever---I took a poll of BTSCers and so far the answer is, that its a 100% BS, I tend to agree. James didn't slam Colt down or anything. Basically Colt ran into James, knocking himself out. Its not his fault that he is a peice of granite and most players are fragile in comparison. At least this should cement James Harrison as the offical meanest player in the game. We like em mean in the Pittsburgh. Make that mean and non suspended.
What are your feelings on Team Tebow?
lottwasgangsta--- I'm Tebowing as I type this! Seriously though, I feel that he's probably a nice kid, and the sporting world's most clutch virgin. That said, he's just not a very good QB right now, he's riding a good defense, and sooner rather than later, will be exposed. The hype is also making me hate him, but that's not only his fault. NE destroys them, mark it down.
steeler fever--- Who cares. So, so QB on a so, so team. Who am I kidding? First I became a Gayaholic and now I am drinkin the Tebow koolaid. Tebow for the Pro Bowl. Go Broncos, whip that patsie ass!
Is Green Bay really this good?
lottwasgangsta--- Their offense is. That said, there are a few teams in the league who are built to compete with them, and they mostly haven't played them. I think they are excellent, but beatable, and ripe for a playoff upset. I actually think home field advantage could hurt them if the conditions are sloppy and muddy, and they have to play a team like the Niners or Giants.
steeler fever--- This years version of the Packers, remind me of the Colts with Peyton Manning. A high powered offense and a D that relies on the O scoring a bunch of points, because the D aint that good. Usually teams like this, don't do well in the playoffs. If the D come on, and resembles last years playoff D. I hate to admit it, but they have to be your SB favorites.
On to the game. Steelers are at the 49ers. GO STEELERS!!! Whoops, some times that kind of stuff just slips out at inopportune times. I can't seem to stop!
How did your team do last week?
lottwasgangsta--- I think if you took a large dump, and then gift wrapped it, that would be about comparable to our level of play versus the Cardinals. The upside is that under Harbaugh, this team has always bounced back well from losses, so I think the Steelers get our best effort this week.
steeler fever--- They got a little stink on em from the Browns. That large dump of which you speak, thats the City of Cleveland. The game, well.......it was the Browns, on a Thursday night. So it was a stinker! James Harrison knocked out another Browns player. SOS. We got to play em again, this year, thats the sad thing and in Cleveland, UGGGHHH. That should be the game, Harrison ought to miss, not this game against SF.
Keys to the game?
lottwasgangsta--- On offense, we need to pick up the blitz better, and use hot routes to get the ball to our playmaking tight ends (Davis and Walker) when you guys send the house. Davis also needs to hold onto the ball. On defense, I think we stop the run, put a safety over Wallace, and I think the key will be to keep getting pass rush with 4 guys, which we've mostly done successfully. Honestly, I think we also have to target inside when we blitz, to take advantage of your guard problems.
steeler fever--- Our D will need some guys to step up at OLB. Interested in seeing what Coach Labeau does. Will Troy P stay at the line of scrimmage? Steelers need good game planning on both sides of the ball, Bruce Arians, I am looking at you! On offense, we need to keep Big Ben upright and establish a running game early.
Anything got you worried?
lottwasgangsta---Legursky. That guy's a beast! Honestly though, I want to see who wins the Woodley/A. Davis matchup in the second half; that should be good. I love the Wolverine, but I don't want him anywhere near 1 of our 5 Smiths. Polamalu is obviously an impact player in terms of turnovers. I want to see how our DB's do against your small but super-fast receivers…I'll admit that has me slightly concerned.
steeler fever--- Chris Kemoeatu. nuff said. Gore will be stopped. I don't see y'all passing on us much either. Besides LG, my worries are. Big Ben getting hurt even more and James Harrison getting to play against SF, while the suspension is being appealed, and retiring at your QB's expense. He might just lose it and pile drive another QB. Vince Young was never the same.
Predictions on the outcome?
lottwasgangsta--- I am pretty sure I get kicked out of California if I don't pick the 49ers. I think they use the national stage to show that last week and the Thanksgiving games were NOT who they are- I predict they win a tight, defensive slugfest.
steeler fever--- Getting kicked out of California is a bad thing? Sorry for ya lottwasgangsta, I think SF peaked early and is on a downhill slide. I do beleive SF will give a good effort in primetime, but Pittsburgh has an excellent MNF record over the years. Sometimes we have really shined in those games. We shine here, and get a big win, against all odds and start looking like Super Bowl contendors.
Thank you for your participation lottswasgangsta! OK fellow BTSCers, lets keep it clean, limit the personal attacks, and any complaints about the cheerleader pictures should be directed at me, as it was my idea. Though our cohost, was more than willing to provide pictures for us. And reportedly, spent many hours researching, before submitting pictures for our mutual enjoyment.
Gold Rush
San Francisco is very scenic.
Naughty, nice, who cares? Hot!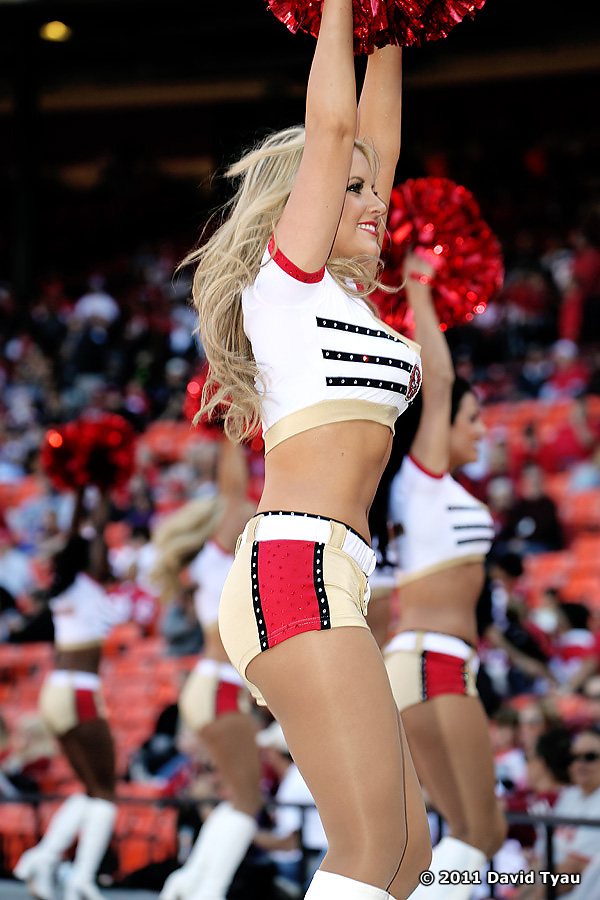 fevers fave, he likes it when they bounce~
We put her in when Alex plays poorly; the defense gets distracted.
Hines wishes the Steelers had cheerleaders; advantage, Niners.