Another great victory for your Pittsburgh Steelers! I like my women beautiful, but I don't mind an ugly Steelers win!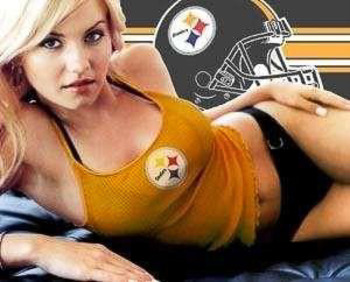 It sure is nice to have a Championship QB who is the prime of his career. Big Ben is showing a confidence and a command of the offense unlike any other year so far. No other QB in the league could do what Ben does with our young and improving offensive line. The weapons Ben has at his disposal are possibly the best in the league.
I know the naysayers count went up again last week with our UGLY win AT Indianapolis. I will take another UGLY win in the same city in a few months!
Every team has weaknesses and ours would seem to be our O-line. Run defense hasn't been great so far, but does anyone really doubt that it will improve as the season goes on? What I have been impressed with is the play of our defensive backs, even Gay has been playing pretty good. Teams who may have thought they could throw all over the Steelers, may be in for a suprise this year. I am looking forward to our Steelers being tested by a supposed top flight QB and passing attack next week.
The Steelers often play down or up to our competition. Last Sunday night we played down to the Colts, next Sunday we will play up to the Texans and life will be good again here in Steeler Nation.
The Colts played their hearts out last week. Their level of play was to be expected from a perennial playoff team with a lot of experience and a solid group of veterans fighting for their early playoff life! Our O-line will not have the stiff test they faced last week from two of the best edge rushers in the league. Lets stick with our O-line, they will get continue to get better as the year goes on.
Ya gotta beleive. This IS the year we win #7. GO STEELERS!!!