So as the college season winds down, I thought it would be an appropriate time for me to talk about the 2013 draft and the all the possibilities it may provide. For all intensive purposes, I'll be giving the Steelers the 24th pick just because it's a happy median between the two possible outcomes this season may produce (24 is in the middle of 32 and 16 for you non-math folk like me). I should point out that I am in no way a scout, and much of the information I've gathered is from the work of others who I will credit at the end of the piece. I do make a few observations on things I ascertain off of my own amateur (or less than) observations. So, without further ado....
Round 1: Ezekiel "Ziggy" Ansah, DE/OLB, BYU:
Ht: 6'6" Wt: 270 lbs Class: SR
Another Ziggy? Yep. A kid from Ghana who didn't start playing football until college? You bet. The Steelers 1st round pick in 2013? I freaking hope so. Ansah doesn't have prolific numbers at BYU, having only gained a starting position this season, but then neither did his NFL-clone, Jason Pierre-Paul. That's the comparison you will undoubtedly here again and again as the draft season heats up. The comparison is valid. A track star and talented basketball player, Ansah is said to possess exceptional speed and range of motion to go along with serious size and power. Like the J.J. Watts and JPP's of the NFL, he excels at swatting down passes. Considering this may very well be James Harrison's final season, the Steelers will be in the market for a premium pass-rusher. Though he's very raw, Ansah provides huge upside that will likely have him slotted to be selected in the first round next April. Here's Jim Wexell's thoughts:
As Wex points out, BYU has moved Ansah all over the field. His size has allowed him to play even the nose tackle in rare scenarios. It'll be interesting to see where Ansah goes in round one. Assuming he lights up the combine like he's projected to, he could go in the top 10 especially if scouts see him as the next Jason Pierre-Paul, but coming out of college, even JPP had more experience on his resume than Ansah does. If the Steelers have the option of picking Ansah in April I doubt they pass it up. The possibilities are just too promising.
Also Considered: Matt Elam, S, Florida-Elam is a versatile safety who hits like Ryan Clark and closes like Troy Polamalu. I said like Polamalu, not the same as Polamalu. He's said to be pretty well rounded in both the pass and the run and should be a mid-first round pick. I'd love to take him in round 1 if Ansah is gone. He's the little brother of Chiefs safety Abram Elam.
Johnathan Jenkins, DT, Georgia: A huge nosetackle who specializes in stuffing the run, and a decent pass rusher. While Steve McLendon has looked promising, Jenkins is a cant-miss prospect.
Alex Okafor, DE/OLB, Texas: An huge (6'4" 265 lbs) outside linebacker prospect with a good mix of speed and strength, who is multi-dimensional in playing both the pass and the run.
Cordarrelle Patterson, WR, Tennessee: An explosive wide receiver with explosive speed and elusiveness after the catch. Being a JUCO transfer, he doesn't have a lot of experience under his belt, but will likely go in the first round if he declares.
Anthony Barr, OLB, UCLA: A converted h-back, who in his first year as a linebacker has been absolute beast and was one of the leading sack-masters in the NCAA this season. His 6'4" 235 lbs frame looks more like a tight end or big wide receiver, but his speed and strength look special.
Round 2: Cobi Hamilton, WR, Arkansas:
Ht: 6'3" Wt: 210 lbs Class: SR
Cobi Hamilton is an interesting prospect. He has a nice blend of size, speed, and toughness. Though he's a little slight for his 6'3" frame, he's tough as nails over the middle, and has the looks of an excellent possession receiver. Assuming Todd Haley is still the offensive coordinator next season, he'd be an excellent fit in Haley's "dink and dunk" offense. In watching Hamilton's youtube film (Rutgers, Texas A&M, LSU, South Carolina), Hamilton does a good job of getting open on short and intermediate routes. One of his better assets appears to be his ability to burn DBs after the catch. He has good awareness of where defenders are after he makes a catch and can make them miss. He torched Rutgers for 300 yards and 3 TDs, and shredded the vaunted 2010 LSU secondary that had included Patrick Peterson and Morris Claiborne. He doesn't have Mike Wallace speed, but goes 0-60 in a very short amount of time. He's not easy to bring down despite having a slim build, though I expect this will change against bigger competition in the NFL. From the youtube tape, it looked like he had reliable hands, though he drops an easy one here and there. Currently Hamilton has been called a late second, early third round pick, and I'd be more than happy if the Steelers took him in round two. I'd be thrilled if he lasted to their third round pick, but for now I'm not gonna take that risk. His stock very well may rise should he put up an impressive offseason.
Round 3: Zeke Motta,S, Notre Dame: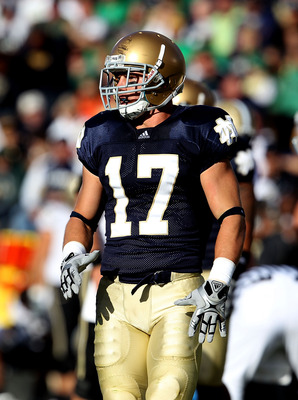 Ht: 6'2" Wt: 215 lbs Class: SR
I'll be honest in saying I don't know a whole lot about Zeke Motta. What I do know from limited youtube highlights and snippets from the internet is that he's a big safety who hits hard and plays the run well. The measurables remind me of last year's safety from Notre Dame, Harrison Smith. In what was an incredibly weak safety class in 2012, Smith found himself taken at the end of round one by the Minnesota Vikings. This year is a great year for safeties, and with a lack of big plays on his resume (only three career interceptions), it'd be hard to see Motta go before round three. The Steelers need to add a young safety to eventually take over for Troy Polamalu or Ryan Clark. Motta looks like a solid pick.
Round 4: Dennis Johnson, RB, Arkansas:
Ht: 5'9" Wt: 213 lbs Class: SR
I'm convinced that Rashard Mendenhall is in his final year as a Pittsburgh Steeler, and will likely end up as a solid #2 back elsewhere. Jonathan Dwyer has been impressive some games and then mediocre in others. The same can be said of Isaac Redman. I'd bet that the Steelers will take a good long look at the position in the 2013 draft. Say hello to my favorite sleeper, and possibly favorite player in the 2013 draft, Dennis Johnson. With the success of the smaller, stouter running backs of late (Maurice Jones-Drew, Ray Rice, Doug Martin, Trent Richardson), we seem to be seeing more and more pop up in each draft class. Enter Dennis Johnson (sounds like a running back's name doesn't it?). In addition to being a promising running back, he has been one of the best return men in college football over the past 5 years, totaling nearly 3,000 yards and in his collegiate career. After receiving a medical redshirt in 2010 and spending a few years as a backup Johnson began to rise up the depth chart after the talented Kniles Davis suffered a knee injury in the 2011 preseason. After splitting carries with Ronnie Wingo Jr. in '11, Johnson has won the lion's share of carries in 2012, despite the return of Kniles Davis. Looking at some of his highlights, it's apparent to me that Johnson is a beast-there's not much he can't do. His agility and burst on running plays seems to be excellent to my untrained less-than amateur eye. It's probably what makes him such a dangerous return man. Pay attention to his blocking on some of these plays.
Here's a transcript of notable plays in that video in case you don't have 12 minutes to spare.
0:14-Run-Vision, shiftiness, explosion for a 53-yard TD
0:32-Block-Stonewalls a defensive end in pass protection
1:20-Run-17-yard run displaying vision and then power at the tail end.
3:52-Kickoff Return-Dennis…Hester? Kickoff return for a TD.
5:00-Run-fighting for every yard on a 10 yard run.
5:42-Catch-nice catch and run out of the flat
6:14-Catch-nice catch and run on a crossing pattern.
6:34-Block-Slows down defensive end just enough to allow Tyler Wilson to throw a deep completion to Joe Adams.
6:55-Block-Nice block on a defensive end
7:14-Run-Shiftieness and vision on display once again for a 20-yard run
7:42-Block-Phenomenal blitz pickup on a backside corner blitz that allows Wilson to fire a bullet to Cobi Hamilton for a TD.
8:44-Hustle-2012 Eagles first round draft pick Fletcher Cox picks up a Tyler Wilson fumble only to be tracked down ala Larry Fitzgerald-James Harrison by Johnson. Johnson nearly forces another fumble on the tackle.
10:13-Block-Great Blitz pickup. Flips a blitzing linebacker/defensive end.
10:18-Block-A screen that gets negated by a hold, but as the receiver (Joe Adams) cuts across the field, Johnson delivers a killer blocker that would make Hines Ward tear up and dust off his shoulder pads.
11:00-BlockStonewalls a linebacker.
11:24-Run-Pure.Football. Awesome, awesome, awesome run.
To recap: He runs like a bull, possesses breakaway speed, can catch, can block, can return kicks.. In today's NFL, starting running backs can emerge in any round (see Arian Foster, Alfred Morris, Stevan Ridley), and it's not much of a stretch to think a middle round pick could win the starting job in training camp.
For now he's flying under the radar and could be a steal in the later rounds. What keeps him there is the fact that he's never been an outright starter. He's always split a significant number of carries with another runner. While some will question his ability to carry the workload, having never tallied more than 200 carries in a single season, smart GM's will recognize that his workload has been more than sufficient, between carries, receptions, and returns. It appears he will be invited to the Senior Bowl, and a strong performance there may cause his stock to rise dramatically. I'm more than comfortable with the idea of the Steelers taking him in the 3rd round. I'm not sure he falls to their position in the 4th. I'll put him here for now, but mark my words, this kid belongs on the radar.
Round 4B: Zac Dysert, QB, Miami of Ohio:
Ht: 6'4" Wt: 228 lbs Class: Senior
It may be a stretch to say the loss of William Gay will net us a 4th round compensation pick, but if Matt Spaeth can get us a seventh round pick, than I guess anything is possible. Anyway, no that's not a picture of Big Ben back in his college days, it's Zac Dysert, current senior signal caller for Miami of Ohio (the two look nothing alike without helmets on). If nothing else, the Pittsburgh Steelers 80th season has revealed just how important Ben Roethlisberger is to the team's success. Charlie Batch rose to the occasion this past week against Baltimore, but Byron Leftwich just can't stay healthy. The need for a young backup QB is high. Might as well go back to the place that produced the franchise's greatest quarterback (I love Terry Bradshaw, but Ben has established himself as the most vital player on this team, something Terry may never have been. Debatable but that's an argument for another post). Zac Dysert is second only to Ben in Miami of Ohio's record book in TDs and is #1 in passing yards, compiling 12,000 yards and 73 TDs (Ben had 84 TDs but less yards in one less year of playing time). That said it's a different era of football. Miami runs some kind of spread offense that utilizes a lot of short, quick passes and a surplus of bubble screens (sound familiar?). Seriously looking at some highlights Steelers fans will never complain again about the frequency of screen passes called in their offense (yes we will). Also apparent in those highlights is that Dysert is decently accurate on short and intermediate passes but not so much on deeper throws. Thankfully the Haley offense doesn't rely on the deep ball to win games. It also appears that Dysert is decently mobile (12 career rushing touchdowns), perhaps giving the team a mini-Ben to develop into a reliable backup.
Round 5: Mister Cobble, NT, Ole Miss:
Ht: 6'1" Wt: 328 lbs Class: JR
The name alone has me cracking up, but the picture makes me laugh harder. I'll be honest, I know very little about Cobble, and there's very little available on him on youtube or the rest of the internet. Here's Walterfootball's observation:
Cobble broke out late in 2011 with some impressive games. The redshirt sophomore finished the season with 33 tackles, three tackles for a loss and one sack. Cobble was a standout in two good defensive efforts for Kentucky in its final two games, against Georgia and Tennessee. He totaled six tackles with two tackles for a loss and a sack in those contests.

Cobble is quick and powerful. He has good closing speed and is a bowling ball going up the middle of an offensive line.
Sounds good to me. With the likely failure of Meda Ta'amu, after his off the field escapades (though the Steelers haven't completely given up on him yet) and Casey Hampton likely retiring or being a cap casualty, Pittsburgh will need some depth behind Steve McLendon. Cobble may want to capitalize on his strong junior year, but could stay an additional year to build on his resume.
Round 6: Braden Hansen, OG, BYU
Ht: 6'6" Wt: 310 lbs Class: SR
Another player that is hard to find information on, it's known that Hasen has been a serviceable center at BYU, who has the size to play guard in the NFL. Though he may go higher, Pittsburgh would be smart to add an offensive lineman late in the draft to add depth to a roster that will likely lose either Ramon Foster or Willie Colon next season. Colon still has years on his contract, but can't stay healthy. Foster has played solidly for the Steelers this year but will likely test the market if he knows there isn't a starting position open for him on the Steelers offensive line. Either way, Hansen would add some nice interior depth. Here's WalterFootball:
12/1/12: Hansen has had a quality season playing center, but didn't standout when taking on Utah defensive tackle Star Lotulelei. Hansen hurt his groin and missed the end of a close loss to Notre Dame. The offense really missed him. The injury also caused Hansen to be out the next game.

8/24/12: Hansen was an instant starter as a freshman, and has started every game at guard the past three seasons. He was named an All-MWC honorable mention as a sophomore.

BYU has had a strong running game, and Hansen has opened a lot of holes for the Cougars. He's also been a reliable pass-blocker. Hansen is a well-rounded guard, but is not overwhelming at the line of scrimmage.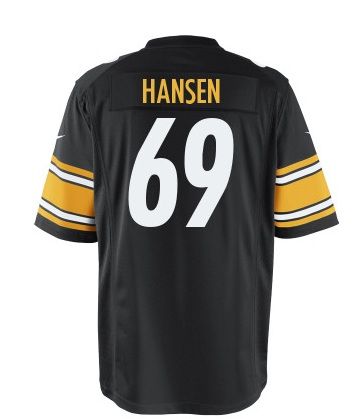 Round 7: Mike Mauti, ILB, Penn State:
Ht: 6'2" Wt: 232 lbs Class: SR
A physical, smart player who was a great leader for Penn State through the past few years. His talent would likely make him a 3rd round pick, or possibly higher, but after numerous major ACL injuries-the most recent coming in mid-November-Mauti will be lucky to be drafted. It looks like he won't be healthy until training camp. He'll definitely get a chance as an undrafted free agent, but the Steelers could do well if they feel Mauti will recover. With Larry Foote aging, the Steelers will look to add some youth inside in addition to Stevenson Sylvester and Sean Spence. Mauti could be a diamond, but must prove his knee injuries are a thing of the past.
Bibliography:
Ziggy Ansah Picture: http://www.deseretnews.com/images/article/midres/1044566/1044566.jpg
Cobi Hamilton: http://www.elevenwarriors.com/sites/default/files/images/11w/2010/12/cobi-hamilton-lsu_405.jpg
Zeke Motta: http://cdn.bleacherreport.net/images_root/slides/photos/002/814/971/hi-res-103881973_display_image.jpg?1355109759
Dennis Johnson Picture: http://www3.pictures.zimbio.com/gi/Mississippi+State+v+Arkansas+_BORxRY6W7Rl.jpg
Zac Dysert Picture: http://espn.go.com/photo/2010/0216/ncf_i_dysert_400.jpg
Mister Cobble: http://media.kentucky.com/smedia/2012/08/21/11/18/11QdP7.AuSt.79.jpeg
Braden Hansen: http://deepshadesofblue.cohttp://www.sbnation.com/admin/entries/new?community_id=64&entry_type=Article#htmlm/wp-content/uploads/2012/06/Braden-Hansen.jpg
Mike Mauti: http://i2.cdn.turner.com/si/2012/football/ncaa/11/19/penn-state-mike-mauti-injury.ap/mike-mauti-p1.jpg
Walterfootball and ESPN credited with some of the scouting notes that wasn't derived from my own observations.
All custom jerseys are from nflshop.com