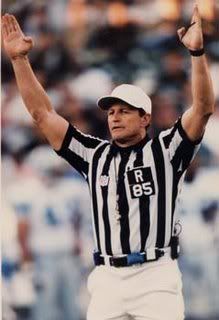 The NFL referees are returning to the job as of Today and the boycott is officially ended. Goodbye replacements you will not be missed, I hope they reserved your jobs for you at Foot Locker and the Lingerie League.
Sure some folks might say this little boycott had no impact on the NFL. And they are right,it was the combined media and fan outrage, plus 70,000 calls to the League office that finally brought the NFL to its senses. Things were getting out of hand on and off the field and was bringing huge embarrassment to the league. Rightly deserved embarrassment I might add! But I am hoping the vast minority of us who chose to boycott the NFL, can in some small way believe we contributed to the return of the official officials. It's probably not true, but lets hold our heads high as we take a small part of the credit. The NFL BOYCOTT post was joined by a couple others of the kind and placed on most of the the SB NATION NFL sites. I saw a mixed reception of the posts and it was a mini sociological study for myself watching the reactions from fans across the country. For some reason, the fanbase that was most readily ready to boycott the NFL was the
Saints
. I can see why! I would imagine the
Packers
were ready to boycott Tuesday morning as well. Thankfully it's all over now and we can return to the officals missing calls on a regular basis. I am gonna give them a 3 week preseason before I start to overly complain about the job they are doing, as they need to work out the kinks. I would like to give a big attaboy to Ed Hochuli for leading the the NFL referees in maintaing as much as possible their level of excellence during the extended Lockout.