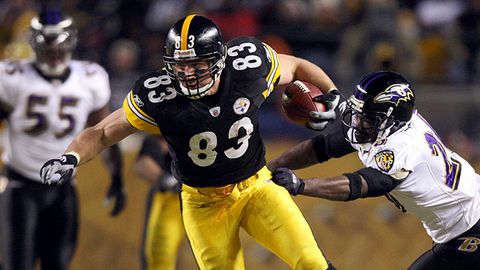 Over the last few weeks of the off-season, the loyal members of BTSC have voted in polls to help capture who the most valuable former or present players for our beloved Pittsburgh Steelers are, if drafted as 21 yr. old rookies in Today's NFL. Every single vote and comment was appreciated by the author, thank you.
We interrupt the regularly scheduled post for a brief announcement.
Neal Coolong and all the writers, ROCK!
A round of applause for where Neal is taking Behind The Steel Curtain. This site and the work some of our fellow Steelers fans are doing here, has become one of the reasons I am proud to be a Steelers fan. The newer writers have been an impressive addition to the quality writers already present on the staff. Kudos.
Back to the Who Ya Got.
The Results as picked by you the reader.
QB - Ben Roethlisberger (56%)
RB - Jerome Bettis (50%)
WR - Hines Ward (32%), John Stallworth (19%), Plaxico Burress (12%)
TE - Heath Miller (92%)
Center - Mike Webster (63%)
Guards - Alan Faneca (68%), David Decastro (5%)
Tackles - Jon Kolb (16%), Tunch Ilkin (5%)
Fever's additional pick, as chosen by me, Lynn Swann who somehow only received 7 % of the vote in his category.
I am a little sad my favorite Steelers player of all time wasn't selected, a special salute to Franco Harris, the Immaculate Reception, and the legion of fan's who make up the Italian Army.
Go Steelers!
Coming soon to a fan post near you, Who Ya Got: Defense? Stay tuned and please keep voting in the polls.