(Jordan Matthews making a one handed TD catch against Florida)
If you have seen me in the comments section, by now you may have realized i'm a little obsessed with Jordan Matthews. What's not to like about him he has the size (6"3) Production (262 REC's, 3759 YDS and 24 TD's) and speed you want in a WR (4.46), however, some experts say he doesn't play with that kind of speed and say he seems like more of a possession WR or a #2 at best. I don't buy that one bit. I honestly see a Jordy Nelson type WR in Jordan Matthews and we all know that Jordy Nelson is definitely not just a possession WR.
Both WR's have demonstrated their ability to take plays to the house Both have been reliable targets in the Red-Zone
We all know what Jordy Nelson is capable of in the Red-Zone
Here is Jordan Matthews in the Red-Zone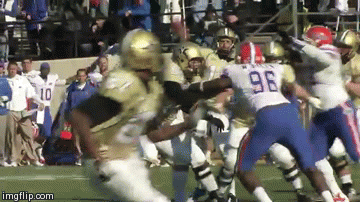 Here's another example of Matthews in the Red-Zone
As you can see in the GIF's above, both WR's are reliable at making outstanding catches in traffic in the end-zone and taking plays to the house. We know how good Jordy Nelson is already we've witnessed what he has done in the NFL but you can see the kind of player that Jordan Matthews could become in the NFL and that's what the Steelers need at WR; a big bodied WR that's reliable in the Red-Zone that has great hands and good speed along with great character. If he somehow fell to the Pittsburgh Steelers in the 2nd Round and they haven't taken a WR yet they better take him.
Hope you enjoyed my analysis I tried really hard to find good examples (this is my first fan post)