It dawned on me this morning that although we broke down every position on the Steelers roster so far we hadn't taken a close look at the coaching staff. Problems with special teams and the offensive line led to speculation that there could be some new faces among the coaching staff in 2008, but Tomlin said from his first postseason press conference that he was sticking with his current staff.
Head Coach Mike Tomlin
Almost from the day he was hired most Steelers fans have been in love with Coach T. He set a tone in training camp and stuck to his guns the entire season. He said from day one that he would not accept or give excuses and that he had one goal, and to his credit he stood by each of those statements. Even though some of the veterans questioned the hiring of an outsider considering that there were two in-house candidates, he did of good job of managing the personalities in the locker room. He of course went through some growing pains in his first season as a head coach. He struggled at times challenges and for whatever reason his team had poor performances on the road versus lesser opponents. In the end though, his team was better than the previous season at times displayed the toughness and determination that he preaches.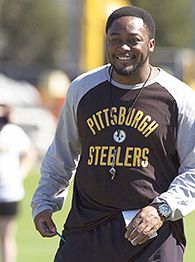 Bottom Line: His first year brought an AFC North title, a 5-1 record in the division and a home playoff game but in the end left fans wanting more. Tomlin's first year wasn't all champagne and roses but did well enough to raise expectations for 2008 and beyond.
Offensive Coordinator Bruce Arians
Arians first season as the Steelers' OC brought several teams records including most passing touchdowns, highest QB rating and he had the NFL's leading rusher until FWP went down in week 16. Arians was able to do all of that behind one of the shakiest offensive lines in the league but still many fans were calling for his head after the playoff loss, including myself. That argument though was mostly just a knee-jerk reaction to a crushing playoff loss. Play calling, which can always be questioned after a loss, was the primary complaint when fans grew tired of first down running plays and fade routes on the goal line. He did however do a great job of making Ben feel comfortable in his offense and went a long way to include Ben in the game plan every week.  
Bottom Line: While it may be easy to question individual parts of his work, when you look at the offense as a whole in 2007 it's hard to say that Arians didn't do an admirable job. Considering this was his first year as coordinator for the Steelers (just fourth overall in the NFL), hopefully he'll continue to grow and 2008 will be even better.
Defensive Coordinator: Dick LeBeau
To many fans' surprise LeBeau and his blitzing 3-4 defense was retained by 4-3 guru Mike Tomlin and 2007 was another really good year the LeBeau's defense. They ranked first in yards allowed and second in points allowed despite several key starters missing considerable time. The defense also recorded two shutouts in a season for the first time since 2000 and held opposing offenses at 10 points or less another four times. The black eye of the 2007 defense though will be that they faded down the stretch when injuries really set in and at times during the season failed to get a stop when they really needed it.
Bottom Line: While 2007 may not have been the best season for LeBeau's  defense, it would have to be considered a success considering all of the injuries. With the addition of Woodley to the starting lineup and hopefully some new blood along the defensive line, LeBeau should have all the tools to bring another year of havoc causing defense to the Steel City.
Special Teams Coach: Bob Ligashesky
Ligashesky entered Pittsburgh as a relatively unknown coach but by the end of the season he was everyone's favorite goat. The Steelers suffered through another year of pathetic special teams' coverage and to make matter worse, it seemed at its worst in crunch time. Several roster moves were made to improve the coverage units, but in the end the only Band-Aid that worked was a pooch kick. This was only his third season as the head special teams coach so it's conceivable that he's still fine tuning his craft, but if Steelers' fans still cringe at every kickoff and punt his days should be numbered.
Bottom Line: Tomlin took a risk (in my opinion) retaining Ligashesky and only time will tell if he made the right decision or not. Special teams coverage simply can not be as piss poor as it was in 2007.
Your turn, how would you grade Tomlin's first year on the Steelers sidelines? Is Arians the OC for the long term and do you have faith in Ligashesky to shore up the ST?