Mackenzie Alexander is among the most controversial CB's when it comes to the scouting community. Some believe his stats are a sign of him having lackluster ball skills, while others believe it's because QB's didn't test him enough. I'm here to tell you stats are probably the worst way to judge a player, especially if you ignore the film.
For instance, I looked up this safety from Illinois because I was impressed with his measurables and his stats, so I went and popped in some of his film and found a safety who just couldn't wrap up for the life of him. RULE 1 of evaluating, never assume stats tell the whole story about a player, that's like judging a book by its cover.
Anyway,now that my little tangent is over, let's take a look at Alexander.
Mackensie Alexander CB Clemson
Pro day results and measurables
Height: 5-10
Weight: 190 LB's
Arm Length: 31 3/8 inches
40 yard dash: 4.47 seconds 
Vertical jump: 37 1/2 inches 
Broad jump: 10 feet, 1 inch 
Short shuttle: 4.21 seconds 
3 cone drill: 7.18 seconds
Overview
Mackenzie Alexander was Clemson's top cover CB and was considered among the best in the country. He is not only renowned for being lock-down but the fact he only allowed 29.6% completions and no touchdowns in the 2015 season is beyond astounding.  There is no better CB at mirroring WR's in man coverage and staying in their hip pocket. He is absolutely the best when it comes to following the other teams best WR, whether it be on the outside or in the slot. Alexander also has the foot quickness to quickly break on the ball and tackle the catch. What I really like about Alexander is that before his official height was known to the public, I assumed the guy might be 6 feet tall based on the way he played, very physical disrupting routes, and bullied every WR he covered. Probably one of the most important traits to have as a CB is to be a willing tackler because if you aren't willing to stop the run and make tackles, you become a liability to your team. He most certainly doesn't lack confidence either, but it's his work ethic and short memory that make him a unique player.
Alexander has experience playing in on and off coverage. In the 2015 season though he played a ton of bail technique which didn't showcase his outstanding coverage skills. Clemson didn't play a ton of zone coverage but Alexander didn't look too out of place when playing zone, he will have to adjust to that in the NFL if he wants to be an all around CB.
In terms of his ball skills this is where I don't really have it listed as a weakness or a strength. His ball skills when he had a chance to make a play on the ball seemed fine although he does have a tendency to bat passes down than go for interceptions. Kind of reminded me of Trufant because he would bat passes down more than he would go for the catch.
Again though like every prospect in the history of the draft, there are weaknesses in his game. I like that he is a willing tackler but I found him too often to be diving at the ankles and failing to wrap up which is just grasping at straws. Alexander has some great athleticism but a lot of times I found him relying on it more than his technique in coverage, specifically his footwork as I saw himself get tangled up somewhat. That won't be good when playing off coverage while coming back to the ball and playing in zone coverage.
With all that said though let's go a little more in depth on his strengths and weaknesses.
Strengths: Tight, man to man coverage
Watching Alexander in man coverage is truly a treat because he's always sticking to the WR in their hip pocket, rarely, if ever will you see him failing to stay with the receiver he's covering because he can mirror a WR's ever movement. On this play he's matched up against DeAndre Smelter. Alexander opens his hips looking at the WR who notices he is looking back for the ball, as soon as Smelter stops and tries to comeback to the ball, Alexander does the same thing mirroring Smelter on the comeback as he is able to settle his hips nicely. This showcases his very smooth hips but also his ability to read the receiver while in man coverage.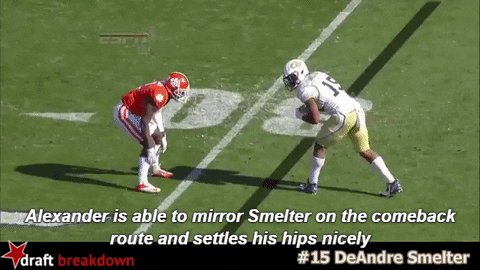 There are so many examples of him just sticking to his receiver that I could point out but this one demonstrates everything that Alexander is best at, being physical, mirroring the receiver, reading the receiver, and how smooth his hips are. If you want to see him running with a really fast WR look at this play. He stays stride for stride with Kermit Whitfield on this play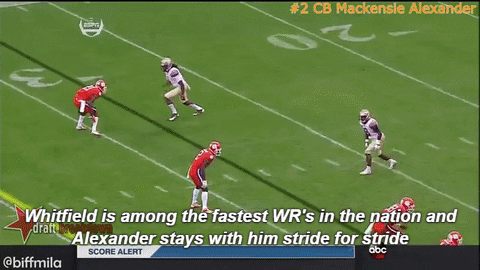 Just for those that don't know:
One of the fastest high school players in the nation in the 2013 class, Whitfield was clocked at 4.37 in the 40-yard dash, which was the fastest recorded among athletes in the ESPN database that year.
Strengths: Foot quickness and tackling the catch
As a CB your feet should almost never ever stop moving, it's a position where quick feet is needed. Alexander has among the quickest feet in this draft at CB and he puts it to good use. On this play Alexander is lined up at the bottom and he is playing off coverage, he shows a nice backpedal and reads the QB's eyes knowing the ball has been thrown, he breaks on the football quickly and tackles the WR at the point of the catch. This kind of play is what gives me optimism about Alexander playing in zone and off coverage.

Strengths: Physicality
Some consider this a double edged sword and it kind of is if you can't control it. That said give me a guy who's physical disrupting a WR's routes over a guy who gets bullied off the line. You have to be somewhat physical to play CB and Alexander, boy he is physical, some might say too much. On this play Alexander get's physical by using is hands to disrupt the timing on Smelter's route, he wounds up getting an arm up and Smelter isn't able to make the catch.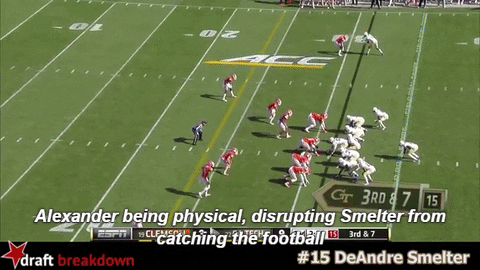 This was trait I noticed very much with Desmond Trufant who was very physical, some thought he should've gotten flagged for some of his plays (sound familiar?). On this play Trufant is covering Ty Montgomery who fights over the top of Trufant to make the catch but Trufant sticks his arm in there to break it up.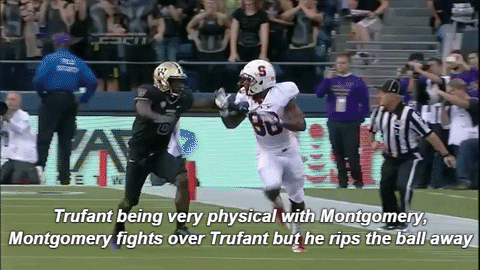 You may be thinking that those plays could be PI and that's my point. Physicality is a trait that can be a double edged sword, you have to control it, they both do it very well while staying legal, are there some questionable no calls on occasion, yes but again, give me a CB who disrupts the receiver over the CB that is getting physically destroyed by the receiver.
Weaknesses: Failing to wrap up on tackles
As the NFL has changed over the years so has tackling, no longer is it legal to hit high towards the helmet and neck area so as a result more players are going lower with their tackles. Alexander though on this play needs to not just grab at the ankles, he needs to wrap up the ankles and legs of the runner and not let go (granted it is Dalvin Cook), too many times I've seen players go towards the ankles as a last resort and while it's not the worst way to tackle, you better be sure you hold on or else you're just barely slowing the runner down.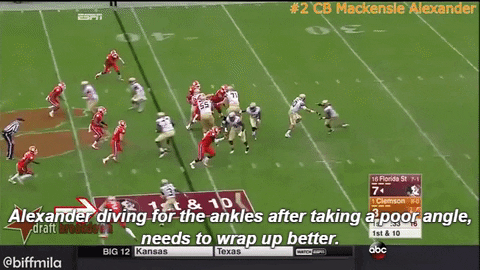 Overall though Alexander is a willing and able tackler but he needs to wrap up much better to avoid plays like those.
Weaknesses: Inconsistent Footwork
This one bugs me because it's the main reason why he's not in front of Vernon Hargreaves. Hargreaves has some great footwork in on and off coverage and has no wasted steps or rarely do you see him cross his feet. That right there is what separates Alexander and Hargreaves. Alexander is playing bail technique on this play but as he tries to come back to the ball though, he ends up having his feet crossing over and he almost completely loses his balance trying to make the tackle.
This is how I look playing back yard football coming back to the ball when playing CB. That is not acceptable for a football player of his caliber to have footwork that bad. If he's going to be successful in the league he must fix this. The one TD I saw him give up was because he lost his balance against FSU in 2014. This is what keeps him from being rated higher than Hargreaves.
Conclusion
Overall Mackensie Alexander is one of the best CB prospects in this years draft because of his outstanding man coverage skills, his excellent athleticism, along with his quick feet not to mention the physicality he plays with, and the fact he is a willing tackler. Alexander didn't really get to display his ball skills much due to the circumstances of when they threw to him. When he was in a position to make a play on the ball though, he made sure to get his hands on it. His ball skills are really the big unknown and we'll find out more about in the NFL. It's easy to overlook the occasional missed tackles as he will need to wrap up a little better in the NFL but his footwork is just downright awful at points and he really must work on that if he wants to be an all around NFL CB. With all that said, Mackensie Alexander is without a doubt in my mind a top 5 CB at the very least in this draft and if he had better footwork, he could have very well challenged Hargreaves for the top spot. With the interest the Steelers have been showing in him, they could be thinking the same thing and if he is still available come the 25th pick, the Steelers could very well pick him.
NFL Comparison: Desmond Trufant
This comparison has stuck with me for a while now and just because they have a difference in height doesn't mean they aren't very similar in a lot of ways. Alexander like Trufant, is very physical and mostly breaks up passes rather than intercepting them. Also Trufant like Alexander has a reputation for not being targeted this past season:
He took 979 snaps in 2015. He was targeted just 56 times - the NFL's lowest among CBs who took at least 75 percent of their team's defensive snaps.
Mackensie Alexander has done basically that throughout his college career and he has the potential to continue that in the NFL.