I've been delaying putting this one out for a while because I wanted to see if the Steelers would show interest in him and it turns out they have. We learned not too long ago that Tavon Young has an upcoming scheduled visit with the Steelers and has already met with the Steelers at his pro day.
Now you may be telling yourself that the Steelers don't need another "Undersized" CB in the secondary. Well there is more to Tavon Young than just an "undersized" label and hopefully you will all stick around for the breakdown before you rush to the comment section to explain to me why another "smurf" is not needed. You may find yourself to be a big fan of Tavon Young after you watch the breakdown and may find some of his traits to be rather familiar to another CB I mention.
Anyways I'm done rambling, let's get to the breakdown.
Tavon Young CB Temple
Combine Results and measurables
Height: 5-9
Weight: 183 LB's
Arm Length: 30 5/8 inches
40 yard dash: 4.46 seconds 
Vertical jump: 34 1/2 inches 
Broad jump: 9 feet, 10 inches
20 yard shuttle: 3.93 seconds 
3 cone drill: 6.80 seconds
Overview
Tavon Young was among the leaders of the Temple defense and was their top cover guy in the secondary. Young had an excellent Junior year in which he wound up intercepting 4 passes and breaking up 9. His senior year didn't see nearly the production as his junior year but he still did a good job shutting down the oppositions top WR's.
If there was a word to describe Young, it would be feisty. He get's very physical in coverage not allowing anyone to bully him around. When watching Tavon Young the two things that immediately stood out to me when watching him was how quick his feet were and just how quick and effortless he was flipping his hips and changing directions, he's extremely quick twitched. His ability to stop and start in and out of his backpedal is impressive. If you're a shorter CB, you better be in the receivers hip pocket when in man to man coverage and he is on almost every play. Most importantly though, Young has the speed to survive in man coverage as he is not likely to get beat by speed. He has played both in on and off coverage's with some experience in zone. He's played on the outside a lot and has played in the slot on occasion.
In terms of his ball skills, he's shown a nice ability to bait QB's in to some bad throws with his closing ability, but also has show the ability make a play on the ball when it's in his area. Overall his ball skills are a plus.
When it comes to his negatives though, his physicality is something I admire for a shorter CB but too many times I saw it get out of hand as he was penalized for it far too many time than I would like. He also has issues getting beat right off the line by fakes and double moves which could indicate he needs to read the receivers hips better.
Let'e take a closer look at his strengths and weaknesses.
Strengths: Quick Twitched
I love CB's who can react and move effortlessly and Young is definitely among the best if not the best in this draft with his movement skills. This play right off the bat illustrates exactly that, he's playing off coverage reading the receiver and he's able to turn around effortlessly to make the interception. The ability to turn as quickly as he did is impressive and isn't seen very often.
I'm serious, find me another CB in this draft that turns that effortlessly, the only guy you'll get is Hargreaves from Florida and he's a top 10 talent.
Again here it is on display, look how quick his feet move, but not just that watch how his feet don't get tangled in any way when he turns, great footwork and an excellent job reading the receiver.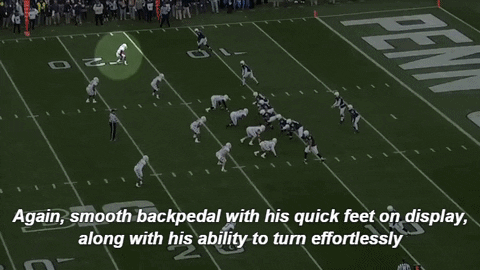 Strengths: Tight coverage, on the hip pocket
As a shorter CB, you have less room for error in coverage when you lack the height and arm length to be able to make up for your mistakes. That's something Tavon Young knows and he stays glued to his oppositions hip pocket when in man to man coverage. On this play here he doesn't allow the receiver to get any separation and he is able to mirror his movements coming back on the curl route and he works around the WR and he ends up deflecting the pass.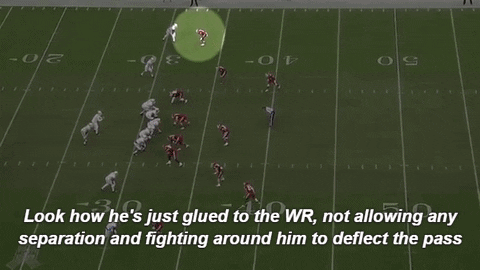 This is why I was such a big fan of Jason Verrett as he did not allow separation and stayed glued to the opposing receiver. If you're a shorter CB you must not allow separation or you will get bit on the butt. Watch Verrett as he gives very little separation and he is able to mirror Goodley on the comeback and he jumps the route. Didn't that look familiar to Young's play?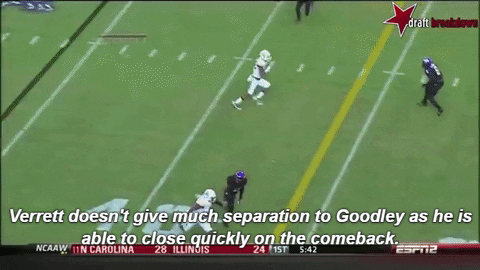 Strengths: Ball skills
In terms of his ball skills, Young has shown some good ball skills, along with his ability to bait QB's into bad throws. We've already seen him high point the football and show some nice leaping ability. In zone though, he has shown a knack for getting to the football and reading the play in front of him. On this play here watch Young stay in his zone and react to the QB's eyes and make a play on the ball.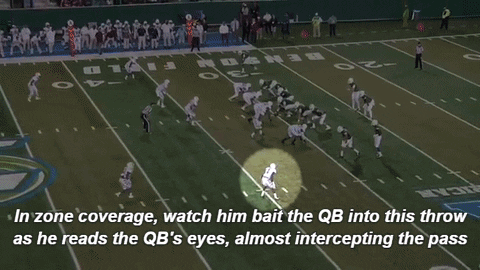 Here he is again playing in zone (not sure specifically what type of zone coverage it is) and he wounds up being physical with the receiver on the outside but he's reading the QB's eyes the whole time and he jumps the route and intercepts the pass.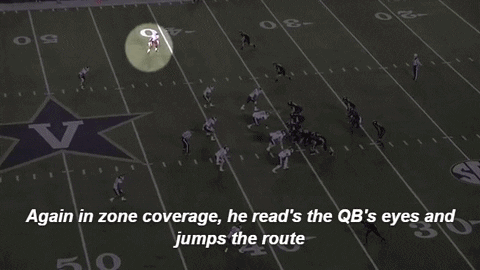 Strengths: Physical, both as tackler and in coverage
If you haven't noticed, Young is checking off the requirements it takes to be a successful CB in the league if you're among the shorter CB's. Young may be the most physical CB I've seen in this draft both in coverage and as a tackler. Watch this play right here, just look at how physical he gets at the top of the route, disrupting the timing of the route while also cutting off the inside route and deflecting the pass.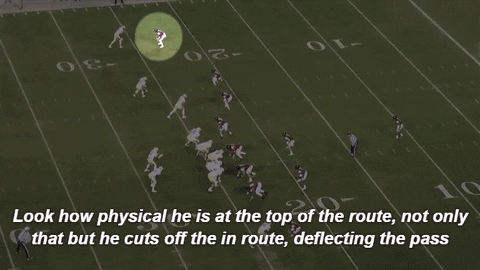 If you thought that was being physical watch some of these tackles as he is able to wrap up perfectly while also showing off some impact to his tackles. This play here you can tell he sees the play coming and he takes the inside angle (better make the tackle if you take that angle) and just blows up the play. Textbook form on the tackle.
Here we go again, watch him on this play as he quickly breaks on the ball and tackles the catch, also forcing the ball loose and causing the play to be incomplete.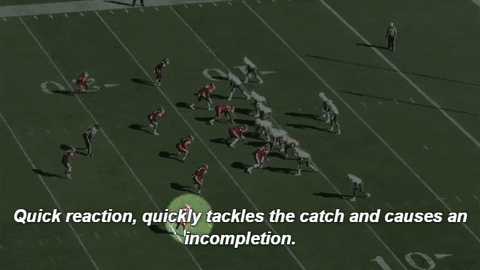 Weaknesses: Can get overly physical in coverage leading to flags
Physicality is a double edged sword and I do prefer my CB's to be physical in coverage but Young was crossing that line quite a bit. Against Notre Dame he went up against Will Fuller and while it was a good battle, Young on occasion was grabbing too much. Like on this play right here, he does not need to grab the jersey, that's a no no.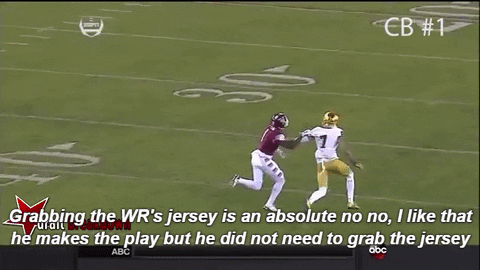 Again here he is against Corey Robinson and he while it's better to be physical against a guy as big as him, he get's a bit out of control here again trying to fight through Robinson but the timing was off and he was penalized for it.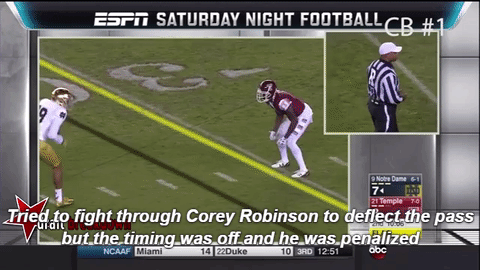 .
Young will have to get better at controlling his physicality in coverage because it's plays like this that need to be avoided.
Weaknesses: Susceptible to double moves and fakes off the line
Young definitely is among the best when it comes to his movement skills but when it came to double moves and fakes off the line, he allowed way too much separation. Watch this play against Cincinnati, he's nowhere even near the the receiver. This is a case of not reading the receivers hips because his hips wouldn't have lied, the rest of his body lies to where he's going.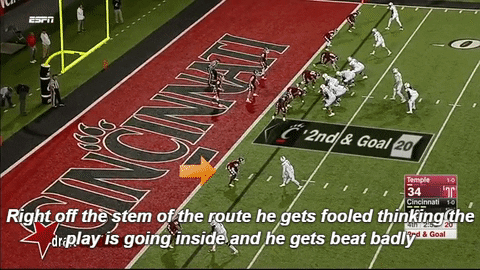 A good DB coach can fix this, but this is definitely something Young must improve upon.
Conclusion
Tavon Young is one of my favorite CB's in this draft because of how quick twitched he is in his movements. He's among the most physical CB's in this draft as both a tackler and in coverage. While his physicality can get a little out of control, I am confident a good coach will teach him to control his physicality. Young exhibits some good ball skills in coverage as he can bait QB's in to some bad throws. He is definitely susceptible to double moves and fakes off the line and he must improve in reading the hips of the receiver. I'd like him to bulk up a little more as he is under 190 LB's. Overall though I like Tavon Young, a lot more than most people and I think he has the traits of a successful NFL caliber CB. I would say at the very least, he's a top 7 CB to me in this draft. I think he can carve a nice niche in the league as a slot guy, but also having the potential to become a starting outside CB if a team gives him the chance. I would not be surprised if he makes a lot plays on special teams early in his career as his tackling skills could prove to help in that regard. The Steelers must also be thinking the same thing if they've been showing this much interest in him.
NFL Comparison: Jason Verrett
Now before you call me crazy and ask for my head, let me explain. Verrett showed me the ability to be physical in coverage and as a tackler, while having great ball skills, along with having quick twitch movement skills. Doesn't that sound familiar? Now Verrett certainly went up against better competition than Young and showed more controlled physicality than Young, but that's not to say that Young can't be a similar caliber player like him with time. Remember some weren't very high on Verrett, including this NFL.com scouting report which said:
A tough, scrappy, undersized nickel back with potential to emerge as a No. 2 corner, Verrett's body is not ideally built to withstand the rigors of a starting job. An outstanding football player in the mold of feisty Titans 2006 seventh-round pick Cortland Finnegan.
Doesn't that sound familiar? How about Verrett's measurables along with his combine results?
Height: 5-9
Weight: 189 LB's
Arm Length: 30 5/8
40 yard dash: 4.38 seconds 
Vertical jump: 39 inches 
Broad jump: 10 feet, 8 inches
20 yard shuttle: 4.00 seconds 
3 cone drill: 6.69 seconds
I'm telling you right now, don't you dare doubt Tavon Young to become an NFL starting caliber CB just because he's considered "undersized". He has all the traits to become a starting caliber CB and I will go on record by saying he will become a good player and I'm willing to accept the scrutiny if I'm wrong about him. He's not a perfect prospect, but his weaknesses are fixable and his strengths show me a player that is starting caliber.
Pro Day video: