The buzz has not only started building on William Jackson III from Houston but after his combine performance it has reached the point where he could break into the late 1st round and possibly even further. After his stellar combine performance I decided to dig a little further into his film than I had done the previous times. This was not only a tough evaluation but I wound up getting some help from Steel34D to explain some of the technique differences in his game.
Anyway without further delay let's get down to business.
William Jackson III CB Houston
Height: 6-0
Weight: 189 LB's
Arm Length: 31 3/4 inches
40 yard dash: 4.37 seconds
Bench Press: 10 reps
Broad Jump: 116.0 inches
Overview:
When watching William Jackson III, it is quite easy to realize that he is among the taller, more lengthy and more physical CB's in this draft. The thing is though, he knows how use his length to his advantage when in press coverage and making a play on the ball. His stats will also instantly point to a player with flat out ball skills, and he sure does have it as evidenced by his 23 passes defended and 5 interceptions in the 2015 season. That is flat out impressive and it shows that he knows how to track the ball in the air and how to high point it. Not just that though, he is also among the best at breaking and reacting to underneath routes and tackling the catch.
However he isn't without his flaws and some of them are noticeable that it would be prudent to not point them out. While I like that he is a willing tackler (which is a good trait), a lot of times when he was going in for a tackle I saw tendency for him to go too high on the tackle and as a result, I saw him whiffing on tackles quite a bit. I also saw Jackson opening his hips a little too early and biting on a fake read. One flaw that I just flat out can't ignore is that his backpedal needs work, as it was not as smooth as you would like. You'll notice that he didn't backpedal a lot throughout his film because most of the time when he was playing in off coverage, he used the 3 step shuffle technique with an outside leverage:
The technique is simple your taking three steps while making your reads and on the third step you should be able to read and break on the short game or turn and run on longer patterns. This is what Saban teaches heavily at Alabama and it is why players like Dre Kirkpatrick came into the NFL and stated he had never done a backpedal.

Next you have to distinguish his leverage, Some coaches prefer then to start their corners lined up with their hips towards the inside of the field when they are playing with outside leverage. This will help them see the play and break on anything inside or short and is most typically seen in zone coverage especially the Cover 3.

- Steel34D
Let's take a closer examination of his strengths and weaknesses.
Strengths: Ability to use length to his advantage
Players can have length but if they don't know how to use it, what good is there of having it? That's a big thing I like about William Jackson is his ability to use his length to disrupt the receivers route. This play is one of my favorites because he takes complete control of the WR's route with his length, but shows good eye discipline looking back for the ball and he is able to use that length to high point and secure the interception. Textbook press coverage.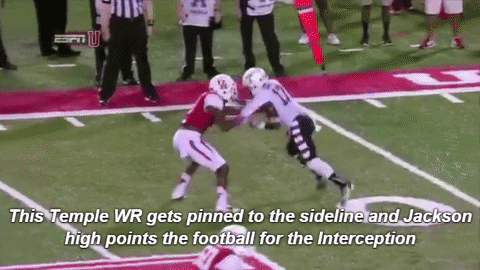 This something I really liked about Marcus Peters last year out of Washington as he was among the best at being physical in man to man coverage. This play on Jaelen Strong is a good example as he pins the WR towards the sideline again taking control of the route, but also looking back for the football and making a play on the ball. Again, textbook press coverage.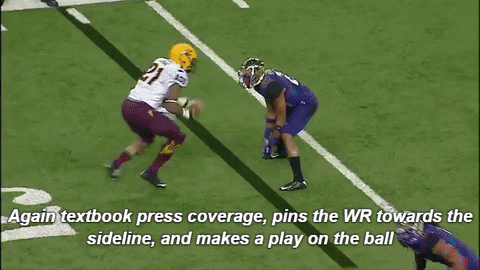 Strengths: Aggressive Ball Skills
His stats alone could speak of his ball skills but he truly is among the best CB's when it comes to making a play on the football on tape. It speaks to his ability to not only stay with the receiver but also his instincts to be around the football. This play right here demonstrates exactly that as he keep his eyes on the receiver but at the same time looking back at the QB and making a play on the ball. Excellent discipline not letting the receiver get behind him. There's a difference between being aggressive and being disciplined, while Jackson is aggressive attacking the ball, he is disciplined with his eyes on this play not biting immediately underneath.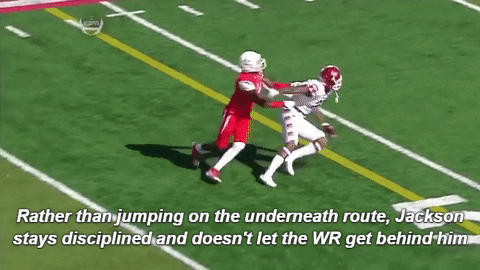 Strengths: Breaking on routes underneath him
This is what both excites and worries me about William Jackson III. I love CB's with the ability to break on routes and making QB's pay. There are so many plays to examine and witness his ability to break on routes underneath him when watching Jackson but this play in particular showcases how quickly he plants his foot and breaks on the route. Excellent play and route recognition.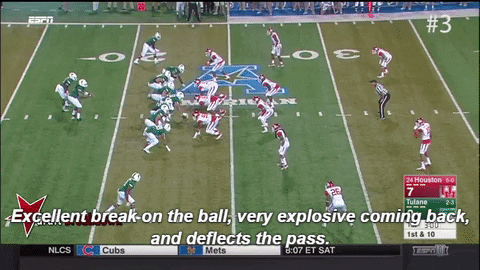 This was a trait that made Kevin Johnson one of my favorite CB prospects last year as well. Johnson was among the best at planting his foot, breaking on short routes and knocking the ball away. This play in particular shows why Johnson was among the best at breaking on the ball.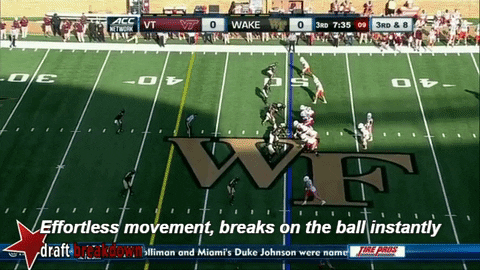 Weakness: Lack of experience backpedaling
If there is something I just can't ignore, it's the fact that William Jackson III almost rarely backpedaled in college. Often when I was watching CB's like Jason Verrett, Kevin Johnson and Marcus Peters, they often had a very smooth looking backpedal with quick feet and showed a very quick transition. While Jackson's backpedal has shown improvement from the 2014 season to the 2015 season, I'd like him to get out of his transition a little faster. Again, he used a lot of the 3 step shuffle technique, so he will have some work to do on his backpedal.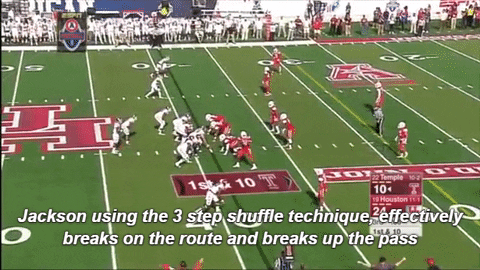 Weakness: Opens up too early
This is something I noticed with William Jackson III when he got beat on the outside. He had a tendency to get overaggressive trying to jump the route but wound up biting a fake read, which led to the WR being open. Against Temple this was on display as Robby Anderson was running a stutter and go, Jackson opened up and bit on the play and wound up letting Anderson get behind him for a big gain.
This is a case of Jackson getting too aggressive and not staying disciplined, he had great positioning at the start of the play but wound up getting beat because he didn't stay patient. While I have praised Jackson's eye discipline a lot throughout this breakdown, there were times like this where he just used poor eye discipline.
Weakness: High tackler, needs to wrap up better
I like the fact William Jackson is a willing tackler and isn't afraid to do the dirty work. That said, I noticed when Jackson was tackling, he had a tendency to go very high for almost a knock out blow. While I like that physical mindset, it can get him in trouble in the NFL if he doesn't control it.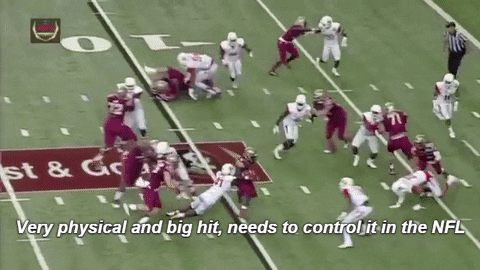 When he did go low, I saw moments where he failed to fully wrap up and he wound up missing the tackle. On this play Jackson is coming in on a blitz from his corner spot, he has a free shot at the QB but fails to wrap him up, giving the QB the opportunity to scramble out of the pocket and gain yards.
Conclusion
William Jackson III is a top 5 CB in this draft. He's a very willing tackler, offers the height, length and speed every team wants, he's fluid in the hips, he has excellent man to man coverage skills, and has great route recognition. He should definitely bulk up a little more as he is 11 LB's under 200. He may need some work on his backpedal and his aggressive nature could lead to some big plays both positive and negative. He honestly reminds me a lot of Marcus Peters in the sense that they both have aggressive ball skills that can get them either in trouble or lead to a big play, they both thrive in man to man coverage but they can also play effectively in off coverage. William Jackson III is top 5 CB in this draft and he very well could be an option for the Steelers with the 25th pick.
Combine Interview
Personal Thanks
I'd like to personally thank Steel34D for explaining the 3 step shuffle technique to me, as it made this evaluation process very informative to not just me, but everyone who views this breakdown.