When Senquez Golson was selected in the in 2nd round in 2015 NFL draft last season, there were many mixed feelings about the pick at the time. Some at the time thought they may have reached for a need, while others believe that they took the best player available, like Mel Kiper who stated "That's one of the best picks of the second round." There were also some who believed that Maxx WIlliams was their original target and once he got picked it changed their plans and made them panic.
Whatever you may believe, the fact remains that Golson really had a ton of traits coming out of college that fit the Steelers scheme perfectly. Let's not forget his 16 career interceptions he got while playing in the SEC which is one of the big power 5 conferences in college football. Just how good of a prospect was Golson though? Remember some did not project Golson to go as high as he did in the 2nd round but I feel like that said more about the CB class he was a part of rather than what type of player he actually was coming out.
So just how does he compare to this next class of CB's and who has the advantages and disadvantages?
Let's take a closer look shall we?
Ball skills
This is the part of Senquez Golson's game that made him a ton of money. A lot of it you can see from just watching his film came from his baseball background as he is among the best if not the best at tracking and finding the football. Watch this play against LSU, this is what I mean by tracking the football, he basically becomes the receiver at this point as he bumps Travin Dural, and he turns back, finds the football and picks it off. Golson was one of the best corners I've seen when it comes to tracking to the football and this is why.
Golson has a clear advantage over the 2016 NFL draft class just due to his pure number of interceptions, the way he plays the ball and how he tracks and finds the football with plays like this. Golson wanted that football more than the receiver did and it shows as he was willing to go over the top of the receiver and take the football away. Not just that he finishes the play by taking it all the way for a TD.
That's not to say there aren't good ball hawks in this CB draft class as guy's like William Jackson III and Vernon Hargreaves III are experts at getting their hands on the football and taking it away. For instance, this play here looks almost identical to Golson's play as VH III climbs over the top to high point the football. Hargreaves just wanted it more and it's one of the reasons he's widely regarded as the best cover CB in this draft.
With all that said, there are some ball hawks in the 2016 CB draft class but not many come close to Golson's level of production or ability to track the football like the center fielder he was in baseball.
Verdict: Advantage Golson
Zone and off Coverage
This is ultimately what I believe raised his value to the Steelers for them to take him in the 2nd round. Golson predominantly played zone coverage at Ole Miss and his effectiveness in zone coverage was evident on tape. So much so that draft analyst Mike Mayock actually was quoted saying "Golson is one of the best pure zone corners I've ever seen."
In this year's draft there are plenty of good CB's in the draft in terms of their coverage skills in zone or off coverage, however, not many come close to how effective Golson was in zone coverage.
This play against Alabama tells it all, nicknamed the interception, Golson is playing zone on this play, he gets depth on his drop and is able to split the difference and is able to immediately help out Cody Prewitt over the top. Golson not only intercepts this pass, he get's over the top of the 6-6 OJ Howard and keeps one foot in bounds to secure the interception.
Vernon Hargreaves III is easily the best cover CB in this draft due to how effective he is in just about every coverage. Tavon Young and Kevin Peterson show themselves to be effective in zone and off coverage's. William Jackson III shows good ability in off coverage to jump routes and break on them in a hurry. Mackensie Alexander, as shown by this Sport Illustrated article, has shown himself to be student of the game picking up the small details that could matter a lot in zone coverage. There are definitely some zone capable CB's in this draft that is for sure.
With all that said, not many come close to Golson's effectiveness in zone and that's not to say there aren't good zone corners in this draft, it's just Golson was just that good of a zone corner and that's fact. Vernon Hargreaves III might be the closest in terms of matching him in zone coverage and Mackensie Alexander shows excellent understanding of zone concepts, but Hargreaves is a top 10 pick and Alexander may not be there for all we know. So if the Steelers are expecting to find a CB as good as Golson in zone coverage, they're most likely not going to find it.
Verdict: Advantage Golson
Man and press coverage
If you're expecting me to find tape of Senquez Golson playing on man to man coverage, you're going to be disappointed. Golson played very little to almost none on man coverage while at Ole Miss. This was one of the biggest question marks about Golson was how effective can he be while playing on man to man coverage and we still don't know. We do know that he has the hips and feet to mirror and react to receivers and that's important, it's just a matter of seeing it.
Now this is where the 2016 NFL draft class offers more than Golson. I'm going to stop mentioning Vernon Hargreaves because we get it, obvious best cover CB, done. Mackensie Alexander, William Jackson III and Eli Apple are both outstanding in man coverage as they are glued to the WR's hip pocket almost every play. Jackson and Apple particularly are excellent press corners who can really disrupt receivers with their length and technique.
I've shown the play before in my William Jackson breakdown, but this truly is a clinic on how to play press man coverage. Pin the receiver to the sideline and use your length to disrupt the route. This is something that Golson most likely will not be able to offer as a CB.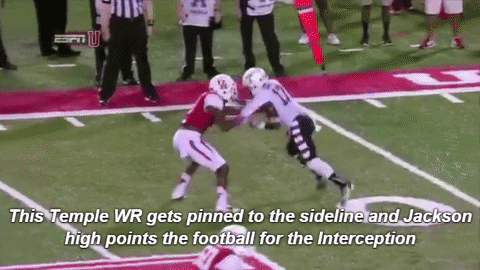 So it's quite obvious that the 2016 CB class has a leg up on Golson in man to man coverage as he played on coverage very little. When he did play man it was mostly off coverage. He also may end up not offering much in press coverage.
Verdict: Advantage 2016 CB class
Tackling and run support
Golson for being undersized really showed an aggression in his tackles and this is illustrated by the 136 total tackles he had over his career at Ole Miss. Golson occasionally would miss tackles but he definitely made more tackles than he missed. Golson's most underrated trait was how effective he was defending the run.
Watch this play as he's coming off the edge on a run blitz and he's able to wrap up Jay Ajayi and bring him down for a loss. Absolute textbook tackle.
In terms of the CB's in the 2016 draft class, many of them are willing tacklers who are capable of helping out in run support. Mackensie Alexander in particular like Golson can be inconsistent with his tackling sometimes, but he definitely made more tackles than he missed.
In particular this play against Alabama in the national championship was impressive as blitzes off the edge and he's able to tackle the almost 240 LB running back, Derrick Henry. The bad thing about this play was that wound up being the last of his college career as his hamstring injury worsened and he was taken out of the game.
In terms of overall tackling ability it's about even with some of the draft prospects like Alexander and Jackson. When it comes to defending the run though, I saw more consistency with Golson than I did with Alexander and Jackson. Both Alexander and Jackson got stuck on blocks a bit more than I would've liked and while Golson isn't the best at getting off blocks, I saw him fight through blocks more so than the other two.
Verdict: Tie for tackling ability, slight edge to Golson in run support
Size
This one shouldn't take too long to figure out and as much as I hate the height bias, the Steelers definitely have more options with size in this draft. Guys like William Jackson III and Eli Apple are over 6 feet tall and have huge wingspans. Even while Mackensie Alexander is only listed at 5-10, he offers a little more length at the position with his 31 1/2 inch arms over Senquez Golson's almost 30 inch arms.
While I do hate the whole height bias and Golson did play bigger than his listed size, it is concerning that he gave up 3 out of his 4 TD's against receivers who were 6-4 or taller. If the Steelers feel worried about having Golson match up on somebody far bigger than him, they could always draft a guy like William Jackson III or even Mackensie Alexander. Then again maybe that's what Ross Cockrell could be used for, but if the Steelers want a CB with more size than Golson, they have plenty of options if that's what they're looking for, but don't count on it.
Verdict: Advantage 2016 CB class
Conclusion
Senquez Golson had a lot to offer for only being about 5-9 and his traits like his zone coverage skills, ball skills, quick feet, and his smooth hips, sure gave a reason for him to be drafted as high as he was. Not many bring the ball skills that Golson had to offer as illustrated by his 10 interceptions his senior year, or the experience that he had in zone coverage. The 2016 CB class offers a little more in the man and press coverage department, they're about on par with Golson when it comes to tackling ability and they offer more size and length at the position than Golson does.
The Steelers will most likely will wound up taking a CB at some point in this year's draft, if they were to take one with the 25th pick, prospects like Mackensie Alexander, William Jackson III or Eli Apple could be there and would offer more size with their length, along with more man and press coverage ability. That said the only prospect who sniffs the amount of ball skills production is William Jackson III and not many of them may offer the same effectiveness in zone coverage. If the Steelers are taking a CB with the 25th pick, it could very well be a contrast in style from that of Golson.
Special thanks to BTSC user UFrazzel for suggesting this idea.