Everyone, including me has been asking this question about Su'a Cravens for a while now, is he a linebacker or is he a safety? Right now most people will say he's a linebacker and that will be his future position. Well I can say after going over the film carefully and watching all 3 years of his collegiate career (what I could find), that I am here to debunk that theory.
Note: Remember i'm no expert and if I make any mistakes, be sure to correct me. This was also my toughest evaluation and i'd appreciate what you all have to say about Cravens, even if I don't convince you.
Alright ladies and Gents, let's get to it.....
Name: Su'a Cravens
Age: 20
Jersey number: 21
School: USC
Class: Junior
Position: Linebacker/Safety
Height: 6-1
Weight: 225 LB's
2015 Stats: 46 Solo tackles, 86 Total tackles, 15 Tackles for loss, 5.5 Sacks, 2 Forced Fumbles, 2 Interceptions, 6 passes deflected
Breakdown
Positive: Position versatility
This is the biggest thing that I love about Su'a Cravens is the fact that he has played both OLB and Safety, also combine that with all things he was asked to do like Blitz and drop in coverage, you are looking at one versatile player. He played in the box, he played underneath coverage, he played deep zone (freshman year), he played off the edge, and he played inside.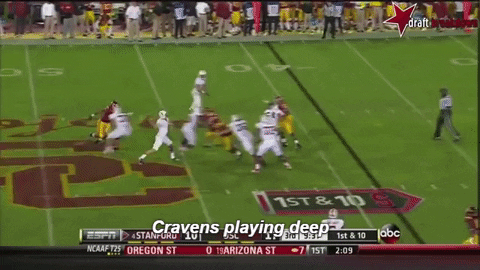 Yes I see the pass was completed, but the purpose of this was to show how he moves playing in deep zone while changing directions. I could have showed you other plays in deep zone but he never really shows off his change in direction. He get's to the receiver but the receiver ran underneath him and couldn't get there in time, also the linebacker could've been playing to shallow as well. Again in Cravens 2013 season you will notice he played deep a majority of the time and did not get beat much. Cravens times the blitz very well and he is able to get a one on one matchup with the RB and he win's with ease. This is probably the best part of Cravens game (in my opinion) is his ability to blitz and how effective he is doing it.
In this game, Cravens matched up with Thomas Duarte almost all game long in man coverage. This is one of the few times we ever got to witness Cravens play man to man, he does an excellent job on this play by sticking to him just enough to bait Rosen into making a horrible decision as Cravens jumps the route and should have picked off that pass.
Positive: Solid fundamentals (tackling)
When it comes to tackling for Su'a Cravens he's not going to wow you with a big hit, he's capable of them but he does a really good job of wrapping up and taking the runner down. Su'a cravens shows up well in run support for this very reason. This tackle was well done as he got around the blocker and he drove his shoulder at his his legs but made sure to wrap up as well. This is a textbook tackle.
Positive: Disciplined Instincts
No one will confuse Su'a Cravens for Troy Polamalu, but his instincts are one of his best traits, he does an excellent job of baiting a QB to throw to a guy who looks open but really isn't. Cravens isn't also the kind of player that does this constantly, which shows that he is disciplined enough to stick to his assignments and not go too out of line. He has great reaction timing as he is able to quickly diagnose where the play is going and sniff it out. He times blitzes and plays very well. This is great timing by Cravens as he waits just long enough to realize the play is about to be called and get's a great start as he sniffed this play out from the beginning and takes the RB down for a loss. This is a play where you recognize it on tape and the moment you see it in game, you blow the play up.
This is great recognition by Cravens to not get caught up in that big mess of offensive and defensive lineman and staying with the tight end not falling for the fake screen. Of course the diving interception was just a great job of using his ball skills. Sean Mannion makes a huge mistake by looking down his receiver and Cravens sees this and takes advantage by jumping the route and going all the way for a touchdown. This is a great play, not only does he have great coverage right here but he jumps the route perfectly, making the tough catch to make his first career interception.
Negatives: Takes bad angles, which leads to missed tackles
This is my biggest gripe with Cravens. I said Cravens is a good tackler but at points he can take a really bad angle and fail to wrap up the ball carrier and it's just maddening to watch. This is noticeable throughout his tape and it is problem he must fix.
You either need to wrap the ball carrier up here or don't over pursue because you have help on the inside, this play shouldn't have gained as many yards on the play as it did. It wasn't the worst decision considering the chance the play could have gone for more had he not done that. Nonetheless he must either wrap up in that situation or don't take a poor angle.
Side Note: Players will miss tackles without a doubt, it's inevitable, I noticed it with Cravens but most of his misses were on bad angles taken. Some people have serious questions about whether he's fast enough athletically and whether he's fluid got fluid hips. I couldn't really judge whether he was fast, there were instances where he seemed to be moving at a very quick pace, but i'll wait till the combine. The same thing with his hips, I know when a guy has fluid hips but I can't really tell when he doesn't fluid hips, his movements seemed quick to me but i'd like to see how he performs in the 3 cone drill. Again I don't have these down as negatives because i'm waiting for the combine to either confirm or disprove whether he's fast or fluid enough.
PFF:
I wouldn't read too much into this, especially if you look at the whole mock, but they seem to have high opinions on Cravens.
Just as was the case in the first mock, Cravens goes to Pittsburgh where the inevitable Troy Polamalu comparisons will start. Cravens played mostly linebacker at USC, often lining up over the slot or setting the edge in the running game. He's not afraid to take on blocks, as evidenced by his +23.6 grade against the run the last two years, but he's also shown well in coverage (+20.7) and as a pass rusher (+8.8).
PFF also ranked their top PAC 12 players and they had this to say about him:
Cravens began his Trojans career as a safety, before spending the past two seasons as a linebacker with expanded slot coverage duties. He thrived in that hybrid role, showing the ability to set the edge and play the run at a high level, and also contribute as a pass rusher. As befitting a converted defensive back, Cravens excelled in coverage, holding quarterbacks targeting his coverage to a 52.3 passer rating over the past two seasons.
Conclusion:
I see Su'a Cravens as a very versatile defender who can be used in a multitude of ways, whether it's in coverage or off the edge, this guy has an arsenal of things that a defensive coordinator can do with him. In way yes he is like Troy because of their versatility but in no way is he like Troy as an athlete, nor is he nearly the freelancer he was. I can't really give you an NFL comparison but he is similar to Deon Buccanon, as in the sense they have both played safety and linebacker. Cravens instincts allow him to bait Quarterbacks into bad decisions and he's able to sniff out the run effectively. So is he a linebacker or safety? That's for the coaching staff to decide, he has been proven to be able to do both well, it's however they want to use him. He can play deep zone, man, in the box, anywhere you need him. It's just a question of his speed and how fluid he is; If he is, good luck on him falling to the 25th pick.
Again my opinion could be different from yours, I encourage you to watch him yourself.
Highlight Video
Hope you enjoyed this breakdown, this was easily my most difficult one because of the amount of searching I had to do. I wound up making all these gif's thanks to the internet and these wonderful gif maker sites. Give me feedback to see what I can improve on in the next write up, in fact give me suggestions on who I should do next!