Because of the parallels between USC outside linebacker/ safety Su'a Cravens and the legendary safety of the Pittsburgh Steelers Troy Polamalu, some have pegged him as an attractive first-round draft pick for the Steelers. Cravens is indeed a talented player, and versatile, but he is more linebacker than safety. So far this season, safety seems to be a bigger area of need for the Black and Gold.
Still, Cravens is a talented player with a very high ceiling and he has the flexibility to play multiple positions. The Steelers could certainly attempt to transition him back to safety. At 6-foot 1-inch and 225-pounds, Su'a' has more height that many of the Steelers personnel at safety and cornerback. He is also decent in coverage, hits hard, and tackles well.
See for yourself.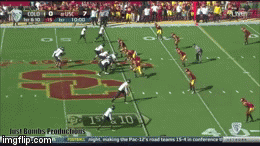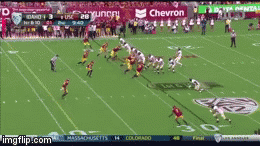 In his first five games of 2015, Cravens has tallied two sacks, 27 tackles, one pass defensed, and one interception that he returned 32 yards. His performance against University of Washington on Thursday night in Week 6 was also very strong. He played equally effectively in the box and in space. Cravens had some highlight-worthy moments-- a pass defensed and four tackles-- but his effort was not enough to lead his team to victory over the unranked University of Washington squad.
Su'a Cravens the next Great Safety from Southern Cal. Future Steelers Legend.

— Mike (@GottiGullyGutta) October 9, 2015
Su'a Cravens is the best safety in college football

— McKenzie Milton (@McChickenzie) October 9, 2015
Sua Cravens is a Beast..

— Saiah (@UCE_YOUNG) October 9, 2015
My #1 want for 49ers, Su'a Cravens a BEAST man @ovo_suu

— Walker (@JrLuvsSports) October 9, 2015
If I was USC, I'd use Su'a Cravens like Michigan is using Jabrill Peppers. Get him close to the LOS and let the dude work. Absolute freak.

— Josh Clark (@jc_utes) October 9, 2015
Su'a Cravens has that "makes NFL GMs drool" type of talent.

— Sanjay Kirpalani (@SanjayKirpalani) October 9, 2015
USC plays Notre Dame away on October 17 followed by Utah on the 24th. Those games will be more of a challenge for USC and will be a truer test of Cravens ability.